Every industry faces its own fire safety and security challenges. Our job is to create a safe space for everyone and allow you to be in full control. Our team has decades of experience installing business integrated security solutions, regardless of the size or scope of the project.
We believe every organisation should invest in a quality strategy for this aspect of work-life and so we have laid out some of your options below. Choosing WLS guarantees the highest possible levels of pre and post-sales support.
Access Control
If you want more clarity or control over who is coming and going from your building, access control systems should be your next port of call. We provide top-quality equipment from proven manufacturers such as ProWatch, Paxton and Impro to allow you the best electronic control.
We can install access control to anything from intercom systems to bollards, barriers and biometric technology. Whatever your requirements, we've got the solution for you.
ANPR Systems
Automatic number plate recognition can identify vehicles and be integrated with CCTV analytics to create access lists. This will grant access through a variety of systems to those who are eligible at certain times and areas.
Alternatively, you can remove the barriers altogether and create a 'digital fence' which simply notifies security staff when a new or unauthorised vehicle enters the site.
Automatic Electric 
Gates
These are essential for controlling the comings and goings of vehicles and pedestrians. We have been manufacturing and installing electric gates across London and the South East for more than 25 years. They're a must for any business integrated security solution.
Our broad range of materials includes steel, aluminium, wood and many more to cater for your level of security needs. Each comes with its own benefits and the automation process makes them user friendly and easy to control from your side of things! This way you have a first line of defence for any unwanted visitors.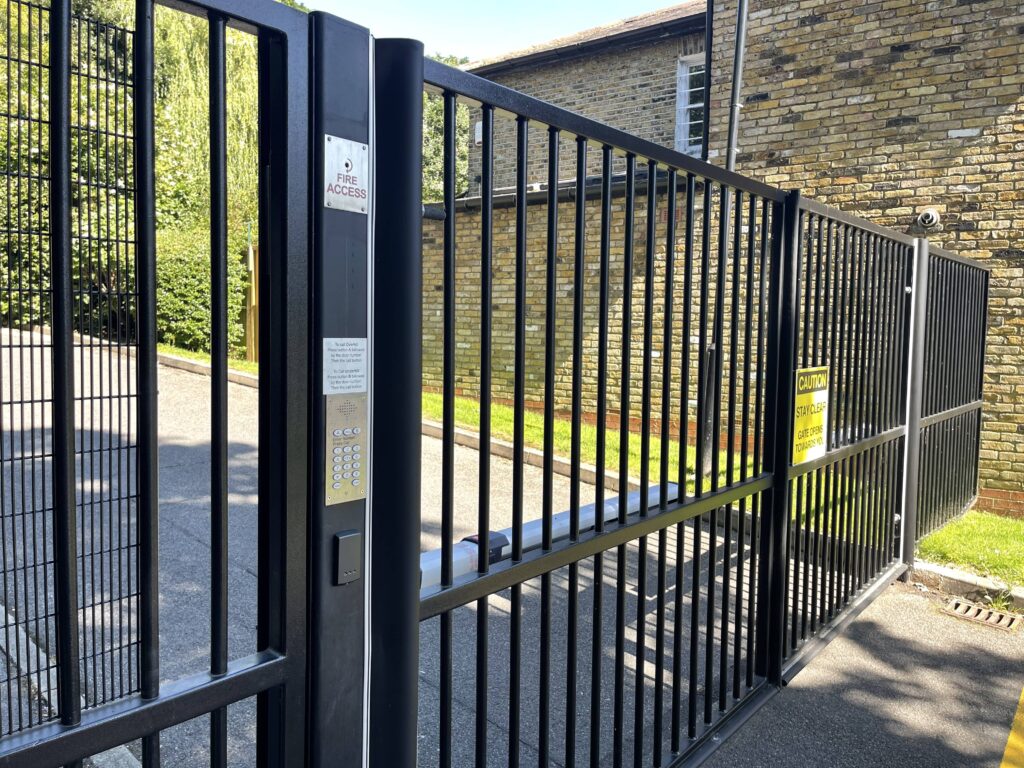 Automatic Opening Vents
When you're worried about smaller offices or spaces hidden away in a corner of your building, it can be hard to settle on a fire prevention method. AOVs work via temperature control and other sensors, allowing you to control the internal environment and flush out smoke in the event of a fire.
These are great for creating clear access for any fire crew that may need to attend but also act in place of normal windows where they cannot be installed.
Biometric Access Control
WLS biometric technology uses the latest fingerprint recognition to supply an extra level of business integrated security solutions. They reduce the risk of lost key cards, forgotten pin numbers and the possibility of mistaken identity.
They are particularly great for sensitive settings where security is essential. This may include schools, hospitals, server rooms and factories with high-value goods. They can be used in all weather and integrated with other access systems and bespoke electric gates.
Bollards & Barriers
If you're looking for an even more heavy-duty first line of defence for your business integrated security solutions – rising bollards and barriers are a flexible option. They are a highly effective visual deterrent and display to a would-be thief that stealing from your property will be a monumental task.
Additionally, they can easily prevent unwanted vehicles from parking or turning your private land while reducing the possibility of any unfortunate ram-raid attacks. They're super strong and easy to automate so you will have full control over the very first line of defence.
Concierge Intercom Systems
If you have one or more people manning your main entry points, this system is easy to use and allows the security staff to talk directly to your visitors and confirm their identity before granting access.
You can choose between audio or audio/visual to increase your security into the main building and even install this measure second to electric gates or bollards for better safety.
Door Entry Systems
We offer wired and wireless options to control entry at the main doors of your building. Whether this is allowing visitors to come in and out, or monitoring staff between rooms – you can integrate them with employee data to ensure those with different levels of clearance are in the right places.
We also offer maintenance and repair on these systems – ensuring the data is always up to date and every section of your system is running smoothly. From video security to touch screen and biometrics, take your pick with WLS.
HD CCTV
Only the best from WLS! We provide top equipment and cameras from 1080p HD to 4k quality surveillance. When your building and employees are possibly at risk – the best quality footage is worth the investment!
Integrate this with infrared technology for even more visibility.
Infrared Technology
Our CCTV with infrared technology greatly improves the visibility of the system & connects to your broadband for remote viewing via a smartphone or tablet.
Ensure you have clear control day or night with WLS business integrated security solutions.
Intruder Alarms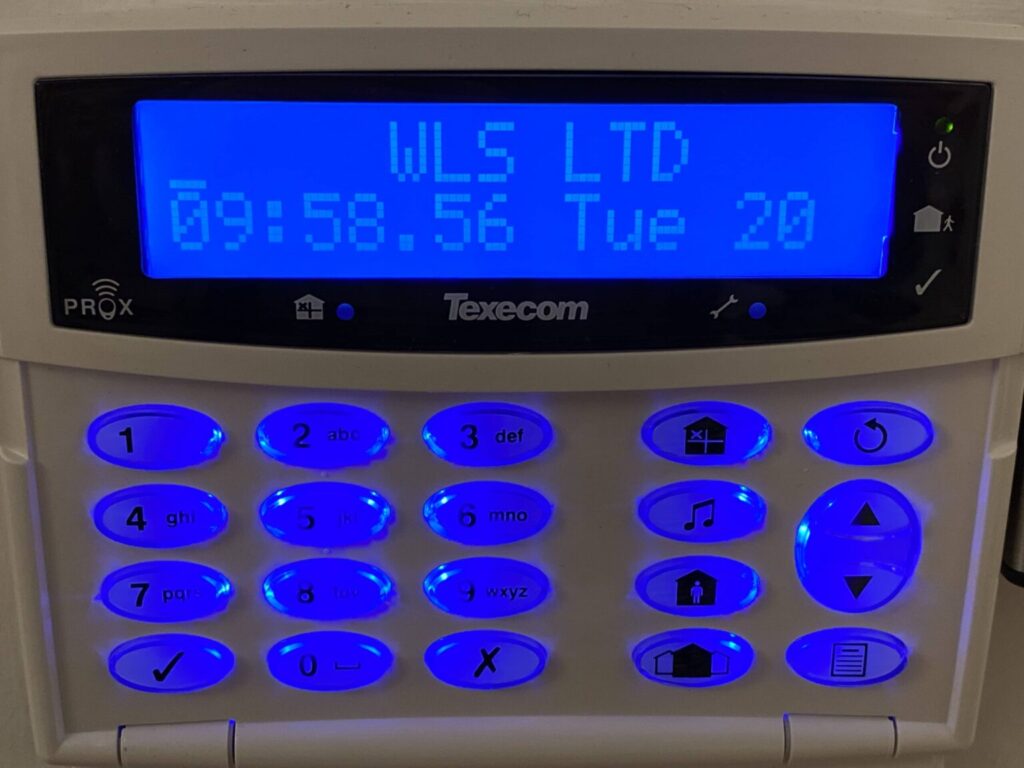 When the entire building or certain areas are unoccupied, you want to be made aware of any potential breaches. Our cutting edge intruder alarm technology can alert you through wireless or wired capabilities whether you're there or not!
We offer GPRS alarms backed up by your data network, radio-based alarms and proximity token control. All intruder alarm security systems are installed to the latest British standard PD6662 and are approved to the exacting standards of all leading insurance companies.
IP Access Control Integration
IP based intercom systems offer remote access for live video and playback via mobile or tablet wherever you are. WLS can install fully programmable IP systems using Cat 5 cabling, letting you link your door entry system to your wider computer network.
IRS Satellite Systems
Within multi-purpose buildings, there are several options for the distribution of communal satellite systems. Get in touch for more information on which could suit you!
IRS & Fibre optic

 – 

requires a TV, FM and DAB aerial and a satellite dish.

SMATV 

– involves a single antenna feeding to a number of indoor units. It is the best method of supplying and controlling the number and type of TV and FM channels to multiple televisions.

MATV 

– distribute TV and FM signals (UHF, FM and DAB) to a number of receivers.

FTTB/FTTP – 

 

fibre optics lead to a certain point on a shared property and then separate cabling connects individual homes, offices or rooms.

IPTV – allow delivery of TV services via the Internet instead of by traditional terrestrial, satellite signal, or cable television formats.
Proximity Token Control
If you're looking for an upgrade on existing intruder alarms or want something that's really going to do the job – proximity tokens make disabling the alarms much quicker and easier for those who come and go every day.
Redcare Connection
Integration to our central monitoring system will ensure the emergency services respond in a timely manner when needed. We can also arrange keyholding to allow access into the building whether you're there or not – essential in case of sudden emergencies.
Remote CCTV Monitoring
We know you're not around 24/7 – and it can be costly to hire staff who are! Instead, you can rely on WLS technology to send footage to a central location, keeping it monitored even when out of hours.
It also allows trained security to utilise intercom systems within the building or contact emergency services in an emergency. This saves on manned security costs but ensures the building is never completely 'unoccupied'.
Security Fencing
To take your electric gate integrated business security solutions to the next level, security fencing ensures your entire premises is fully protected against other unauthorised visitors. You can choose between our variety of materials and styles to keep your building looking fantastic and as robust as you need.
VESDA Systems
Very early smoke detection apparatus are used in locations when early warnings are fundamental. This may include server rooms or other areas that are temperature sensitive. They can also be used in place of conventional smoke detectors where the look or function isn't appropriate.
They detect different levels and warn you before commercial detectors would pick up rising smoke. This allows you to take fast action and evacuate any areas that need to be cleared. Similarly, it reduces the risk of smoke and heat damage that could end up costing you a fortune.
Voice Alarm Systems
Where a phased evacuation or instructions are required during an emergency, voice alarm systems offer another level of safety and clarity for any occupants of your building. They're usually installed in place of conventional alarms and can be particularly useful in large buildings and shared commercial properties.
All broadcasts, whether live announcements or continual sounds can be sent to all areas of a site or to selected zones that may be more at risk. It can help reduce panic and confusion where occupants don't know what the issue is or how to react.
Wireless Fire Alarms
We know that in some buildings, it's not appropriate or possible to run cables all over the place. For example – some listed buildings may lack the ability to contain wires in the walls or ceiling. This can be navigated with our wireless fire alarm systems.
We will ensure full coverage of your building can be achieved while maintaining the aesthetic and complying with all relevant standards.  
Business Integrated Security Solutions With WLS
From full security systems and CCTV to intruder alarms, we can install and maintain them for you. Our customers have always said it's our people that set us apart – we know how important it is to work with a company who can guarantee the right results.
Contact our team for further details on how we can help you with any of the solutions listed above. Or even a mixture of a few! We cater to any size project and always take the time to understand exactly what you want out of our systems. Give us a call today on 0208 676 4300 to have a chat.
The WLS Guarantee – Creating Safe Spaces
* First Time Fix or Solution Provided Every Time *
We strive to be the World's Leading Security Company, with an uncompromising focus on customers and the solutions we deliver. Our WLS team knows how important it is to create safe spaces you can trust, whether for your family home or business. 
With over 30 years of experience in the industry, our expert team have closely followed the latest trends and developments in security technology. From our first installation to where we are now, our customers have always been our focus – providing an effective and high-quality result consistently. We're proud to offer our unrivalled WLS guarantee to each of our customers.