We often associate CCTV with road safety and shopping centres – keeping drivers wary of their speed and opportunists deterred from shoplifting. However, the majority of closed-circuit systems are found on private premises. CCTV cameras in the workplace are used to protect employees, visitors and assets.
As businesses start upgrading their systems, machinery and equipment – it becomes ever more important to install quality security systems too. They can be an efficient deterrent against vandalism and theft as well as offer video evidence.
Uses For CCTV Cameras In The Workplace
Law states that you have a right to protect your legitimate interests. Without a sturdy policy in place, you could find yourself infringing on strict privacy laws. People will use this type of security system for multiple reasons including:
Improve the safety of staff –
This is one of the most important reasons to install cameras. You can ensure that everyone has a secure environment in which to work where they won't be subjected to unpleasant situations.
Keep property and equipment secure –
After spending thousands of pounds on high tech professional equipment, the last thing you want is to be worried about theft or vandalism. Even employees themselves may need to be held accountable for accidental damage. Surveillance will help deter opportunists and let you keep a close eye on everything even when you're not around.
Furthermore, in the event of a fire – CCTV in the workplace can integrate with our WLS fire security systems. This can allow you to react quickly and pinpoint the cause in suspicious circumstances.
Resource metrics
Surveillance can provide you with really useful information about the way your building is used. You'll be able to see:
Which areas are overcrowded

Which rooms or equipment need maintenance

Areas in which you could be saving energy due to low occupancy

Inefficient working procedures
Rules & Regulations
If you're thinking about installing CCTV cameras in the workplace or want to ensure you're using your current systems correctly, you'll need to be aware of the privacy and data protection laws surrounding them.
Following guidance, you should have a nominated person who is responsible for the storage and destruction of footage. GDPR states that footage should only be kept for as long as necessary. It might sound vague but will take into account the reason for each camera and how often you may need to review it.

Cameras should not be installed in private areas such as toilets and changing rooms.

ALL employees should be made aware whether verbally or in writing that they are being recorded. Visible signage may be used to cover this but we'd always recommend sending a company-wide memo or adding it to the handbook.
If an employee or visitor requests to see footage featuring themselves, you must provide this within one month of the request.
The employer must inform the Information Commissioner's Office (ICO) that you have installed such systems and what the purpose of the footage is.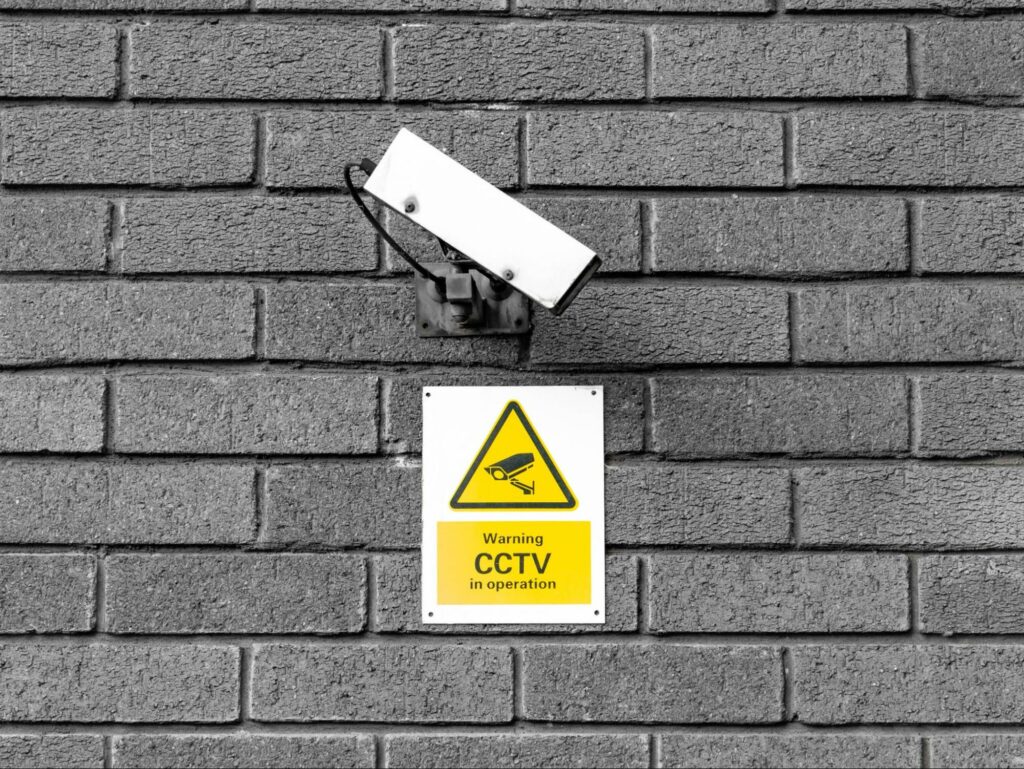 Can You Monitor People Without Their Knowledge?
If you are undertaking a particular investigation with targeted surveillance, it may be possible to install covert CCTV in the workplace. However, it is up to you to ensure this is totally necessary and that you have reasonable grounds for suspecting an employee is breaking the law or it is part of an ongoing police matter.
It's also important to make a note of everyone's privacy and ensure the targeted surveillance will impact as few people as possible. But before this, we'd suggest adding a warning in your privacy policy that this is a possibility. There are a few risks associated with this that may outweigh your need for covert surveillance.
Employee Trust
You do risk damaging the relationship you hold with staff if they don't fully understand the need for CCTV in the workplace. That's why it's important to outline the system's function and assure them that it's not being used to spy on their productivity!
Covert surveillance certainly runs this risk and employees may ask to see any footage they are in. This is still your duty to provide unless for policing reasons or as part of an investigation.
Because this can impact the company culture – we'd always suggest making everyone fully aware of when and where your cameras are being installed as well as the main reasons why. If you've previously had a security breach – they may be more understanding. However, moving to a new building or upgrading your security are all valid reasons that just need laying out in full.
Reassure them that the footage will be destroyed after a reasonable period of time and that they have a right to view certain videos if they are worried.
Infringing Human Rights
CCTV in the workplace needs to be used for specific reasons laid out in your privacy policy. If the nature of the footage is intrusive or you have not used a professional service to install them in communal areas – you may be violating the privacy of your staff.
Not only can this cause some HR issues, but you could actually be liable should someone decide to sue or authorities carry out an investigation on the function of your footage. This means that they could legally take you to court under the Human Right Acts 1998.
General Data Protection Act Regulations
Be aware that breaching GDPR could see you facing large fines and even bans on data processing.
It's your responsibility to display compliant CCTV signage throughout your building. They must be kept simple, clearly visible for any visitors or staff and easy to read. Also, if you're operating in a shared building – it's always important to clarify the organisation hosting the video in case anyone needs to know who to contact for footage or enquiries.
It's also worth noting that CCTV audio recording laws state that conversations between members of the public are not allowed to be recorded. An IP CCTV installation from WLS allows you to monitor your CCTV security systems with remote access for live video and playback on your smartphone, tablet or other internet-enabled device, from anywhere in the world.
For security functionality, you shouldn't need audio recording anyway – so accessing the footage easily and conveniently with a WLS system is a perfect upgrade for your business.
WLS 
CCTV Cameras In The Workplace
A reliable CCTV installation from WLS will give you the footage you can depend on for those rare occasions that it is required. We have undertaken many high profile CCTV & surveillance installations in London including CCTV Systems at Channel 4, The National Archives in Kew and the London 2012 Olympic Stadium. No matter the size or complexity of your building – we can ensure you have a fully integrated and comprehensive system in place.
We have many different technologies on offer to suit your needs.
Network Video Records

 – You can store large amounts of high frame-rate data and can be searched locally and over your network or via a smart device.

Infra-Red Technology 

– We can provide cameras of up to 4k quality and install systems with infrared technology to improve the visibility and accessibility of your footage at night.

ANPR Systems 

– You can use number plate recognition in conjunction with your CCTV cameras in the workplace and other security systems. Access systems can rely on this data to allow or deny certain staff or visitors into the premises.
If you want to install, upgrade, repair or service your current camera systems – get in touch today. You can find out more about our call out charges here or get a quote online! We will come to service your systems at any point and make sure everything is in perfect order. Our customers have always said it's our people that set us apart – we know how important it is to work with a company that guarantees the right results.
The WLS Guarantee – Creating Safe Spaces
* First Time Fix or Solution Provided Every Time *
We strive to be the World's Leading Security Company, with an uncompromising focus on customers and the solutions we deliver. Our WLS team knows how important it is to create safe spaces you can trust, whether for your family home or business. 
With over 30 years of experience in the industry, our expert team have closely followed the latest trends and developments in security technology. From our first installation to where we are now, our customers have always been our focus – providing an effective and high-quality result consistently. We're proud to offer our unrivalled WLS guarantee to each of our customers.