The issue of security in schools is extremely important for both parents and students, in ensuring that children are safe whilst going through their education. Any breaches in school security can have serious implications on the safety of students, teachers and parents alike. Poor security can also impact the quality of education and uncommon crisis events can have legal ramifications. Therefore it is the responsibility of school administrations to find ways to make school secure and safe for all students and staff members. 
Additionally, it is also essential that fire safety measures are upheld in schools. Without proper risk assessments and security adjustments in place, those in the facility can be at serious risk. Regular servicing carried out by professionals is also essential for any fire safety system to ensure that components are all working correctly and to ensure that there are no faults in the system. 
Let's explore some of the ways in which school security measures can be used to ensure safety.
CCTV and Security
A great first step in ensuring that the security of any school facility is up to scratch is to ensure that reliable CCTV installations are in place for any rare circumstances that they are required. 
WLS are NSI gold approved and also have over 25 years of experience in installing CCTV camera systems. All of our equipment comes from proven suppliers such as Gentec, Axis and Hikvision. The quality of our equipment and service ensures that your school facility will have reliable CCTV systems that are long-lasting for when you need them most. 
One option you may wish to consider is an IP CCTV installation which will allow you to monitor CCTV systems with remote access live videos and playback on a smartphone, tablet or alternative internet device. 
CCTV recordings with a network video recorder (NVRs) make sure that you are able to store large amounts of high frame-rate data which will help boost the clarity of CCTV footage obtained. 
CCTV systems such as this can be hugely beneficial in schools for ensuring that no one is on the premises without permission and for spotting any activity that puts students and teachers at risk. Similarly, it can be beneficial in medical scenarios where more information is needed as to the factors surrounding any accidents. 
Our work with Vauxhall City Farm displays the possibilities for all kinds of building installation, including schools. With many operating out-dated systems, or none at all – WLS are on hand to ensure the quality of footage and area covered exceeds expectations.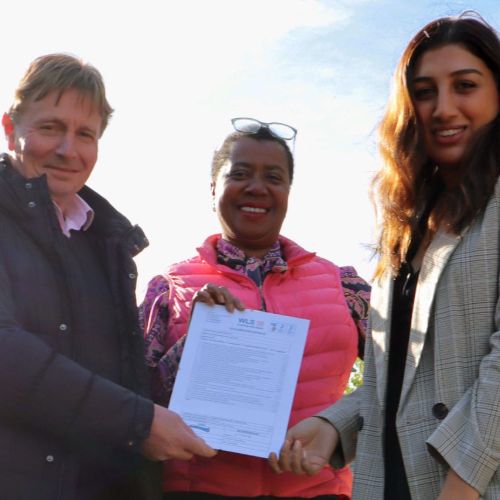 Access Control Systems – School Security Measures
It is essential within any education facility that buildings and rooms are only accessible to those that need to be there, either during or after school hours. One great solution for this issue is to implement access control systems within your school. There are a number of keyless entry systems that you can consider. One of which is RFID (radio frequency identification) working proximity door locks, with the use of card readers and key fobs and cards. You may also wish to consider biometric access control systems such as fingerprint and retina readers. 
The type of control system you will require will often depend on the premises in which they are being installed. A benefit of working with WLS when setting up these systems within an educational facility is that we work carefully to install access security systems and tailor our installations for the needs of the client. We can also ensure the installation takes place at a time to suit you – reducing any disruption to the day.
Intruder Alarms 
Another great way to improve school security measures is to implement intruder alarm technology that can be used for blocked off areas of the facility or any part of the facility once schooling hours have finished. 
Intruder alarm systems installed by WLS are of the latest British regulations and are also approved to the standards of leading insurance companies. By using the latest technology, we can design an effective security solution tailored to your needs. 
WLS's GPRS intruder alarms transmit alarm signals over the mobile data network. They are also backed up by regular phone lines to ensure further peace of mind. 
Additionally, wireless intruder alarms or radio-based alarms can also be installed in circumstances where running cables is not possible. This can be beneficial in school facilities especially if the buildings are historic or listed. You want to eliminate trip hazards and any other risks they may pose to young people. These types of alarm systems are not only practical but also save space and are reliable as well. 
Fire Alarm and Safety 
Another important element of school security measures are ensuring that fire safety measures are upheld. Our expert engineers can help by installing, programming and maintaining fire security and protection equipment. This includes the installation of wireless fire alarm systems as well as VESDA systems, automatic opening vents, intercom and voice alarms.
Additionally, we can integrate these systems together using a central fire control panel so you have full access. As a BAFE and NSI Gold approved service, we can assure you the highest quality in service and equipment for your fire safety systems as well as offer an exclusive Redcare connection.
Our wireless fire alarms are a perfect solution to school fire safety in that they can easily be installed wherever needed and in as many rooms as you'd like. Our new range of wireless detectors and control panels are easily maintained – making the servicing process quick and easy throughout the year. 
VESDA Smoke Detection Systems
Very Early Smoke Detection Apparatuses or VESDAs for short are extremely useful in their ability to warn you of a fire at early stages in development. The benefit here is that within the grounds, you will be warned very early on into a fire's development that there is a danger present, leaving more time for facilities to be evacuated in worst-case scenarios. 
Similarly, in small areas like cloakrooms, they allow for professional safety measures to be put in place where other systems may not be suitable. This ensures that all areas are covered. 
Fire Alarm Servicing and Bi-Annual Testing
It is suggested that you have your fire alarms services at least twice a year to ensure that there are no faults when a real emergency comes around. In addition to this fire alarm systems should be checked weekly by users to ensure that all components are working correctly as well as to ensure there is no issue with the signal being received by the control panel. 
British standards state that all the detectors, call points, panels, and circuits must be tested every six months by an engineer with specialist knowledge of fire alarm systems and smoke detectors. However, that being said WLS suggest for large or high-risk properties, fire protection servicing be carried out every three months rather than every six.
During bi-annual testing and maintenance, the engineer will follow a checklist and will inspect your logbook for any reported incidents. They will conduct a visual inspection for any noticeable signs of wear as well as carry out a thorough inspection of all the devices and components. The benefit of having a professional fire alarm service engineer look at the alarm is that it can reassure you, and ensure any issues are fixed before the overall system is affected.
Our team of highly skilled engineers are readily available through our call out service, they'll ensure your system meets the very highest of standards and find a solution should there be a fault.
Automatic Electric Gates – School Security Measures
Another security precaution you may wish to consider for a school is automatic electric gates. Where vehicular access and pedestrian access needs to be controlled, such as in a school car park, automatic electric gates provide an extra level of protection. WLS provides a complete automatic electric gates service in London and beyond and only uses the best suppliers. These include FAAC, BFT and CAME for our electric gate design, fabrication, installation, and automation.
Steel gates are an economical option for optimum security and durability and is the material of choice for most gate manufacturers and installations. The strength of these gates allows for more complex and delicate designs which may well suit the welcoming, friendly nature of your school. 
We have worked with Michael Tippett School in the past to replace their static school gates with top of the range automatic ones. In combination with a door entry system, we were able to provide a much more secure and monitored entrance/exit for the secondary school. With so many students and staff, it was critical they could keep an eye on the comings and goings.
However, should you wish to spend a little bit less of your budget, aluminium gates can be a great alternative. These gates are lightweight but also sturdy and low maintenance which is great where little fingers are involved! We will always ensure you receive the best quality for your money as well, using a specialist workshop to tailor-make the best quality aluminium gates in a range of colours and styles. 
Ensure Safety and Security With The Right Equipment
As we have now covered, there are a multitude of ways in which you can ensure the safety and security of those on school premises. Fire safety precautions such as fire alarms and VESDA smoke detection systems are great effective solutions. WLS can also provide proper bi-annual servicing alongside installations to ensure that all components are working properly. In addition, installing top quality IP CCTV systems as well as other security measures such as automatic electric gates will ensure that the premises are safe from intrusions. 
More on WLS
It is of utmost importance that schools are kept secure and safe in case of emergencies. This is why it is important to have the right school security measures and fire safety systems in place. If you are looking for high-quality fire safety and security experts to help with your installations, WLS are here to help. 
From full security systems and CCTV to intruder alarms, we can install and maintain them for you. Our customers have always said it's our people that set us apart – we know how important it is you work with a company you can guarantee the right results from. 
Contact our team for further details on how we can help you with remote monitoring services and first-class alarm systems on 0208 676 4300.
The WLS Guarantee – Creating Safe Spaces
* First Time Fix or Solution Provided Every Time *
We strive to be the World's Leading Security Company, with an uncompromising focus on customers and the solutions we deliver. Our WLS team knows how important it is to create safe spaces you can trust, whether for your family home or business. 
With over 30 years of experience in the industry, our expert team have closely followed the latest trends and developments in security technology. From our first installation to where we are now, our customers have always been our focus – providing an effective and high-quality result consistently. We're proud to offer our unrivalled WLS guarantee to each of our customers.