Are you looking to improve your home security come the new year? A great first line of defence you may wish to consider for your home is that of electric security gates. There are many different styles and materials that you can choose from when it comes to your security gates all with their own unique benefits. Let's take a closer look at the range of options you have available should you wish to consider these security measures for your home. 
Automatic Security Gates
One issue that may be prevalent when considering the security of your home is how vehicle and pedestrian access can be controlled. This is where automatic electronic gates can be a great solution. At WLS, we can provide you with a complete service for your automatic gates to ensure they remain stable and in proper working order. 
Our team installed bespoke telescopic gates at Ritherdon Road which allowed the client to maximise the use of their rear-drive. Even with their newly installed turntable, our two telescopic gates offered enough flexibility and movement for large vehicles to enter the property with security.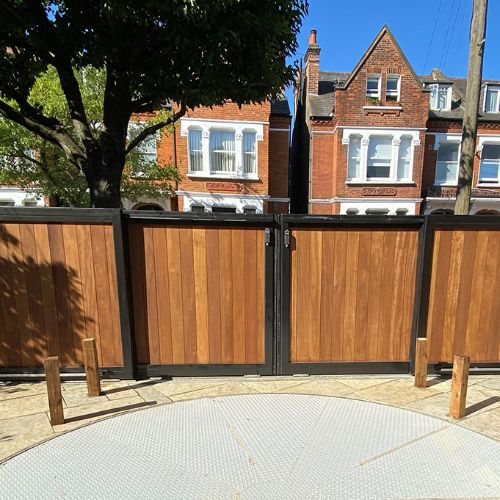 Electronic Gate Material Options – Electric Security Gates
Steel Gates
Steel is a great material option for your gates due to its strength. Where your home is concerned, you want the best possible protection, so the most durable, long-lasting material is often the preference. Not only do they protect your home, but can help deter unwanted guests. Often having the precautions in place means you'll never have to use them for security purposes!
Aluminium Gates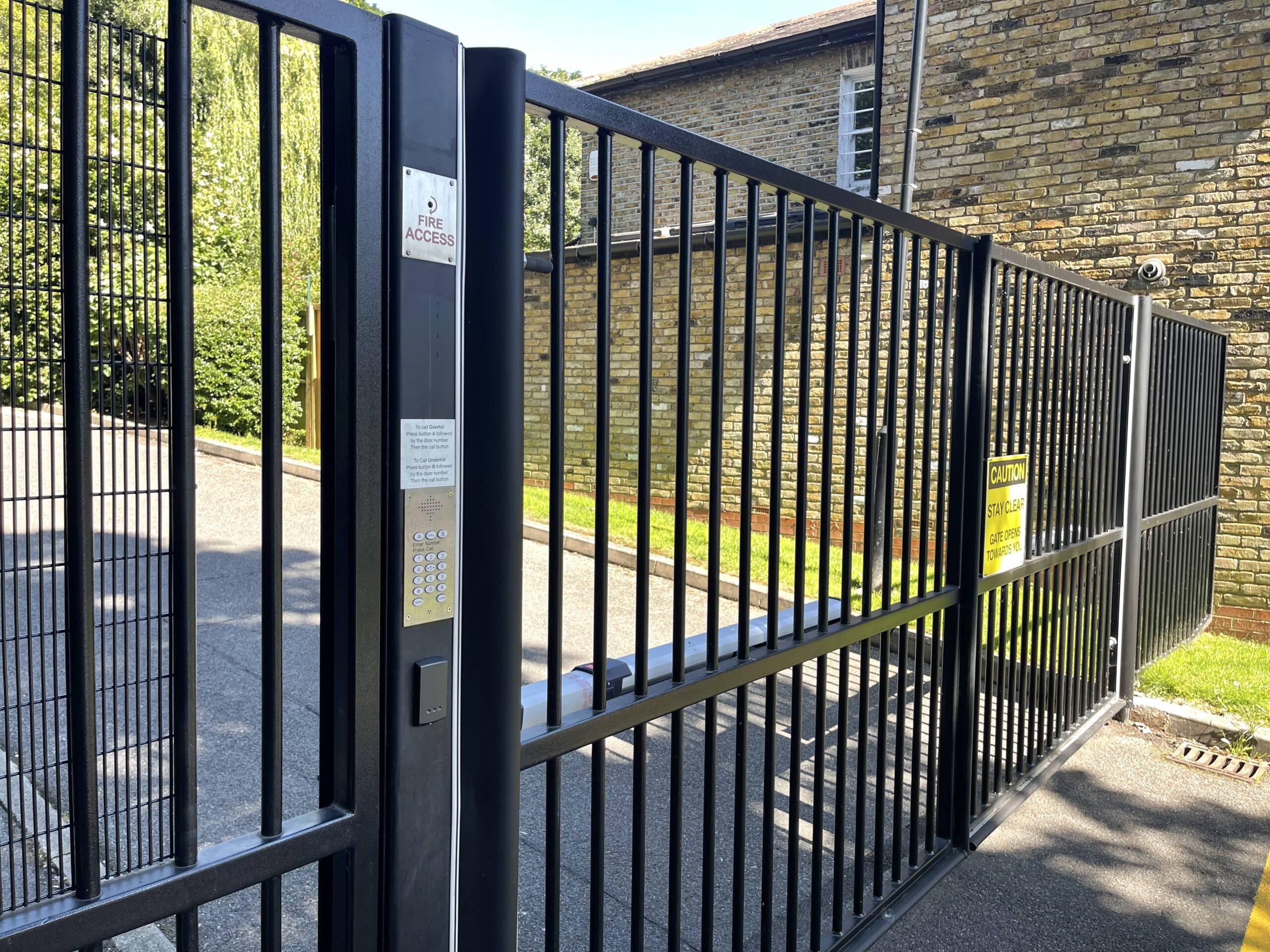 If you want to improve the security of your home but are running low on funds, aluminium electric security gates can be a fantastic alternative option. One benefit of aluminium is that it is a more lightweight material. Despite this, it is also very sturdy and low maintenance meaning you will not have to worry about wear and tear which could lead to further unnecessary spendings. Our aluminium gates come in a wide range of colours and styles so you can be sure to find one that suits your property whilst ensuring the security you need. 
Another benefit of choosing aluminium for the material choice of your gates is that it is a more eco-friendly option. The reason here is that many aluminium products can be created from recycled materials and can be easily recycled again once they have been used. So if environmental sustainability is a cause that is close to your heart, aluminium gates are a great option. 
Our designs of aluminium gates bring a contemporary twist to a more traditional style, making them a perfect fit regardless of your type of home. Double, manual swinging gates can be set up and installed in as little as two hours, so we won't interfere with your day!
Our double aluminium residential driveway gates can cover any opening spanning up to 4500mm and heights up to 2400mm. These are also coupled with additional support posts and adjustable hinges. These types of gates are a great solution, being able to cater to the majority of driveways and creating a grand entrance!
Alternatively, we can also provide pedestrian access gates that span up to 1200mm with heights of up to 2,200mm. An additional standard here for these types of gates is that they include adjustable hinges and lockable handles.
Wooden Gates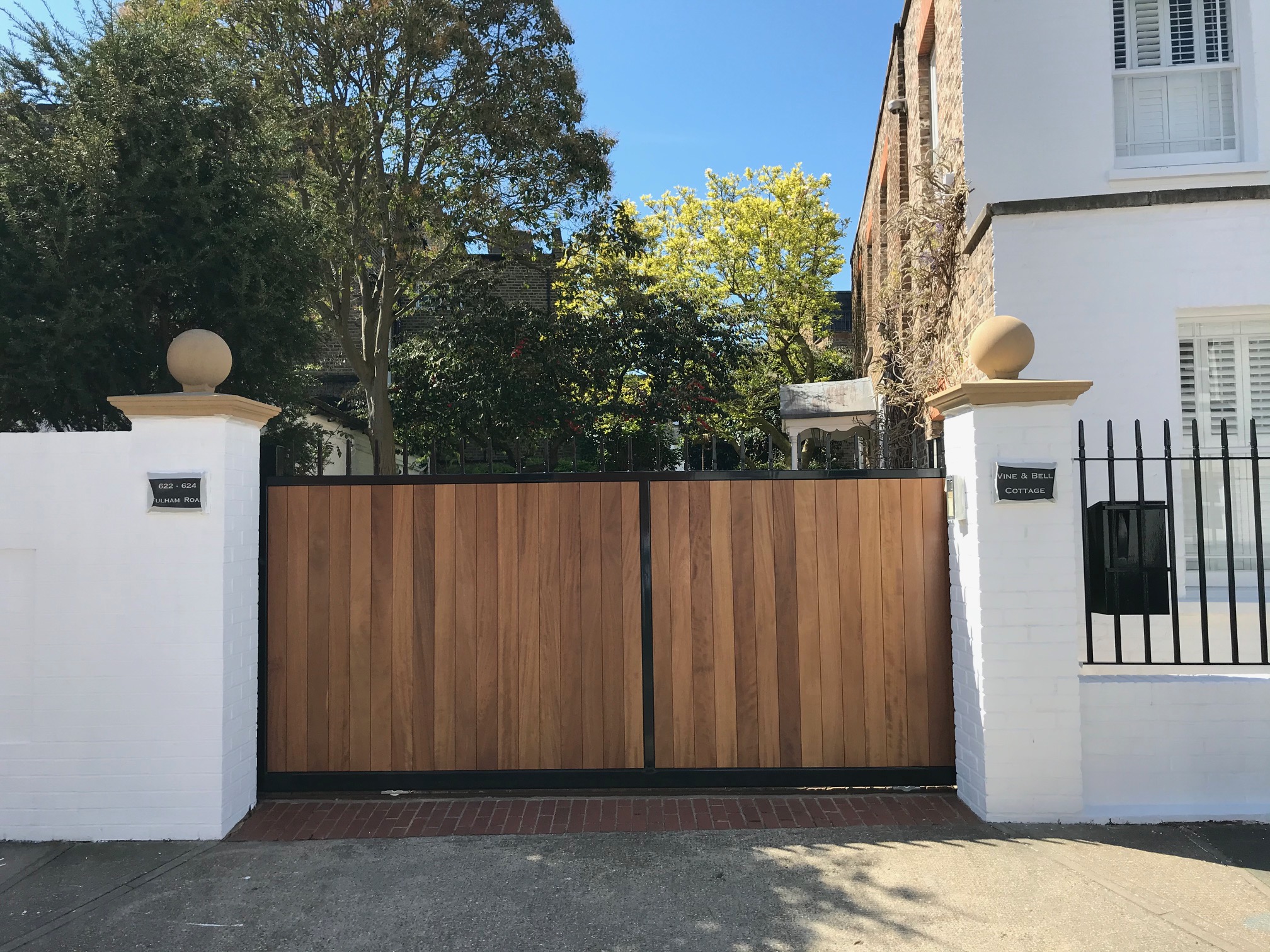 If you wish to improve the security of your home yet want to maintain a more traditional aesthetic, wooden electric security gates are a great solution that will add elegance. Closed face timber gates can also be great for adding more privacy if you're worried about nosy neighbours!
The wood on these kinds of gates can be selected from sustainable sources should environmental protection be an important factor for you. Additionally, wooden gates actually improve aesthetically with age and can last much longer than both steel and aluminium gates provided the wood is of good quality. This is important to think about if you are looking to sell your home in the future as it can add great value to increase profit! 
Swing Gates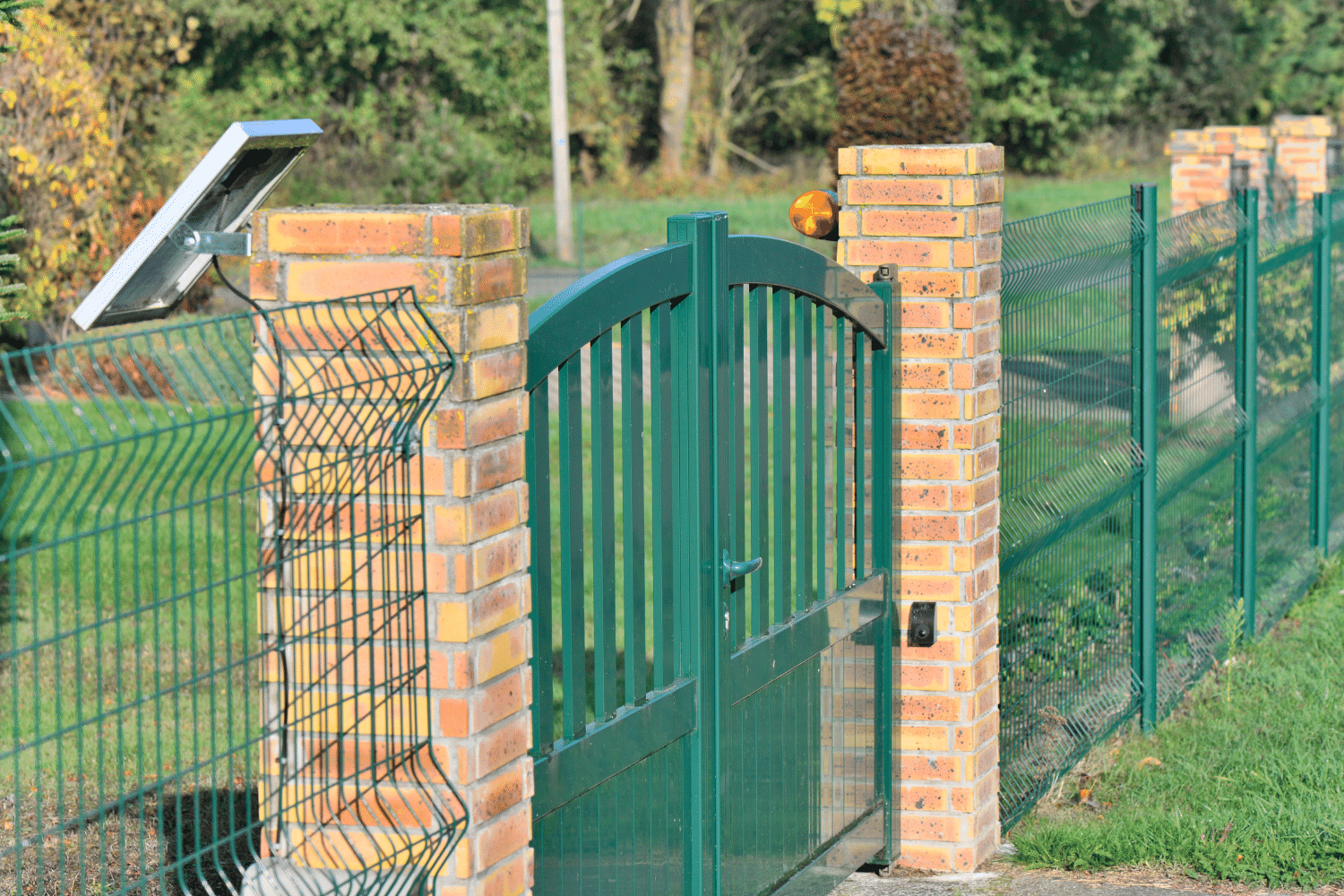 One popular gate style which WLS can help install is swing gates. Not only are they more visually pleasing but they are also less imposing than sliding gates. A benefit of swing gates is that they can add sophistication and style to the property whilst ensuring that your home is safe and secure from intrusion. WLS can help design, fabricate as well as install and automate swing gates in line with your specifications. These types can also come in a few different material options of steel, aluminium or wood. 
Our Gate Automation Workshop 
At WLS we have our own dedicated gate automation workshop. Here, we can custom-make automatic electric security gates in line with your requirements. Automatic gate openers are supplied by leading manufacturers in order to design and install the best quality automation systems. Our team of professionals oversee the entire manufacturing process at each stage from visualisation and design to manufacturing and installation. 
Additionally, our engineers and sales team regularly attend training courses such as ones provided by the independent UK organisation, Gate Safe. These courses are dedicated to the standards of gate safety as well as keeping up to date with the newest automatic electric gate opener developments.  
Integrating Your Automatic Electric Gates With Access Control Systems
An additional great way to ensure extra protection and security for your home in the new year is to integrate your electric gates with access control systems. We can integrate your electric gates with access control systems such as door entry systems, or biometric access control panels. 
Additions of security measures such as door systems are a great next step in addition to gates in securing your home. The video door entry systems that we can help install are becoming increasingly popular as a security feature in many homes. They can be implemented where access needs to be restricted but full access control systems are not necessary. 
Gate Repairs and Maintenance
There are strict guidelines involved with the installation of automatic gates. Thus it is of utmost importance that the design and installation of security gates are in compliance with the latest regulations and industry standards. Furthermore, automatic gates are required to be tested regularly. Our maintenance and testing programme can help ensure that your electric gates are not only safe but also fully HSE compliant. Our service engineers are qualified to work not only on WLS supplied gates but are trained to install and repair those from several manufacturers. 
We guarantee a first-time fix or to provide a solution during every single call-out. We offer competitive call-out rates and have built a continuing relationship with many clients including Channel 4 where we respond to repair and maintenance calls multiple times a month. 
Our Experience and Expertise
Our extensive experience in installing, maintaining and repairing quality door entry systems spans more than 35 years. We have worked with all kinds of premises and in every type of configuration. We are long-established approved installers of Comelit intercoms, Urmet and BPT intercoms, leading manufacturers of security door entry systems. Our accreditations ensure that we are a top-quality service in security that you can rely on in providing the best possible products and services. 
Why Use Gate Specialists for Your Security
As we have just previously mentioned, one benefit of using gate specialists for maintenance and installations is that they often have years of experience ensuring that you can rely on them to get the job done at the highest possible quality. However, there are some additional benefits of hiring gate specialists such as those provided by WLS. 
Firstly, it is cost-effective as you will not have to provide your own tools for installations and repairs. The job will also be done to a high standard meaning repairs will be less likely to be needed. (It may seem like a DIY possibility, but trust us when we say there is more to it than meets the eye!)
Also, when repairs are required WLS hold the first-time guarantee. This means that if for some reason we can't fix the problem the first time, we will propose a solution and deduct the call-out charge from the cost. Also where solutions cannot be found, we can refund call out charges, leaving you peace of mind that no time or money has been wasted. 
Conclusion 
Automatic electric gates are a great way of ensuring improved security for your home. It does not matter what your home looks like as our range of gates come in a variety of different colours and styles meaning there is certainly going to be a gate that fits your home. 
Additionally, the automatic gates we provide at WLS can come in a range of materials such as steel, aluminium and wood. Any of these options can be considered depending on your budget, aesthetic preferences and overall desired level of security. At WLS we can help with each aspect of the installation, including maintenance and design. Our maintenance service will also mean your gates remain in line with industry standards and will ensure longevity.  
More on WLS
If you are looking to improve your home security come the new year, automatic electric gates are a great first step solution. These gates can be made available in a range of materials and styles and can be made bespoke to your needs. 
From full security systems and CCTV to intruder alarms, we can install and maintain them for you. Our customers have always said it's our people that set us apart – we know how important it is you work with a company you can guarantee the right results from. 
Contact our team for further details on how we can help you with remote monitoring services and first-class alarm systems on 0208 676 4300.
The WLS Guarantee – Creating Safe Spaces
* First Time Fix or Solution Provided Every Time *
We strive to be the World's Leading Security Company, with an uncompromising focus on customers and the solutions we deliver. Our WLS team knows how important it is to create safe spaces you can trust, whether for your family home or business. 
With over 30 years of experience in the industry, our expert team have closely followed the latest trends and developments in security technology. From our first installation to where we are now, our customers have always been our focus – providing an effective and high-quality result consistently. We're proud to offer our unrivalled WLS guarantee to each of our customers.