Electric gates are an excellent safety measure to have in place, whether they be installed on your personal or business property. They act as both a deterrent and preventative measure, stopping intruders from accessing your premises.
When installing your electric gates, the engineers should have made you aware of just how imperative it is to have regular maintenance. However, many people aren't exactly sure what to look for and continue to use the gates with an undetected fault, thinking nothing is wrong. Failure to service the automatic gates at least once or twice a year though, could lead to major disruption day-to-day and worse could cause injury, or even death if the mechanism malfunctions.
Today, the WLS team are detailing the signs to look out for, indicating that you may need an electric gate repair. These can easily go unnoticed, and if not serviced and repaired in a timely fashion, it may mean the whole system needs replacing. Unfortunately, it's not just a WD-40 spray on the hinges instant fix!
At WLS, we've been designing, installing and maintaining automatic gate systems for over 30 years and therefore, are experts in understanding the wear and tear of these security measures. So, here are some of the key signs that you may need a professional repair.
#1 Worn appearance
Perhaps the most obvious indication that you require an electric gate repair, is visible wear. When your gates are first installed, they will look fantastic – being brand-new you should, of course, expect this. As time goes by though, the effect of weathering may become more noticeable. There are three main types of material used for gates: steel, aluminium, and wood. Each will age differently, so let's take a closer look at the tell-tale signs:
Rusting
If your gates are made from metal – steel of aluminium, you are likely to see them develop patches of rust. Furthermore, if you have opted for a powder coating finish (a great tip to increase the durability!) you may eventually see the paint flaking and chipping away. Both rusting and paint peeling away suggest the gates are in need of a repair, or servicing at the very least to prevent this wear from spreading. Rusting in particular can be a major cause for concern; should this spread to a key component, you may risk the parts working incorrectly. This increases the likelihood of an accident, and when the purpose of a gate is for safety – it's certainly something you want to avoid.
Here at WLS we always galvanise and powder coat our electric gates to prevent them from rusting. Flat surfaces where the rainwater sits may require cleaning to remove any calcium deposits but this is a simple fix.
Varnishing
It's important we also touch on the use of wooden gates. These require the highest level of maintenance, but many often overlook the importance of this regular servicing. The wood will require an annual check-over with the need for re-sanding and oiling every two years. Often wood is accompanied by the use of steel or another metal and will also suffer the effects of the British weather.
#2 Unusual sounds
An unusual sound can be unnerving, this usually comes in the form of rattling and should not be left unaddressed for a long period of time; ideally you should seek advice from a professional engineer as soon as possible! But, what could this rattling noise mean?
Rattling
If you start to notice a rattling on your gate, either when it's opening/closing or stationary you should ask an engineer to take a further look into the issue. Rattling may mean that certain components require tightening. Should you neglect this noise, parts may come loose and cause the gate to close quicker than it should. This would therefore cause a major safety hazard, and potentially damage your gate system further too.
#3 Slow-moving or stiffness
This can be a tricky one to notice, as typically it is a gradual decline over time. However, if you feel your gate's movement speed has reduced, this can be an early sign that something is at fault.
You may hear a squeak which is a clear indication that there is some unwanted friction somewhere within the mechanism. This stiffness will put more strain on the motor and decrease the overall lifespan of the system, whilst also reducing the current movement speed.
This could be particularly dangerous should the stiffness occur on the tracking; if not addressed the gates may lose stability and, though extremely unlikely, run off the tracks. This would then require a full replacement rather than servicing and electric gate repair.
#4 An incident occurs
If your gates have endured a collision or sustained damage in another way, again, even though they may seemingly be working correctly, you can not be sure of what is going on inside the device. At the very least, the system will require a professional checking all is in working order and it's likely they may detect a fault that requires a repair.
Even if somebody accidentally hit the gates with their vehicle at a slow speed, there could potentially be a lot of damage unseen that needs rectifying. And, during Autumn or Winter, severe storms may also lead to major problems that you ignore as the functionality of your gates seems unaffected. However, should there be an incident, it's vital you speak to a professional and service the automatic system to avoid expensive replacements in the long run.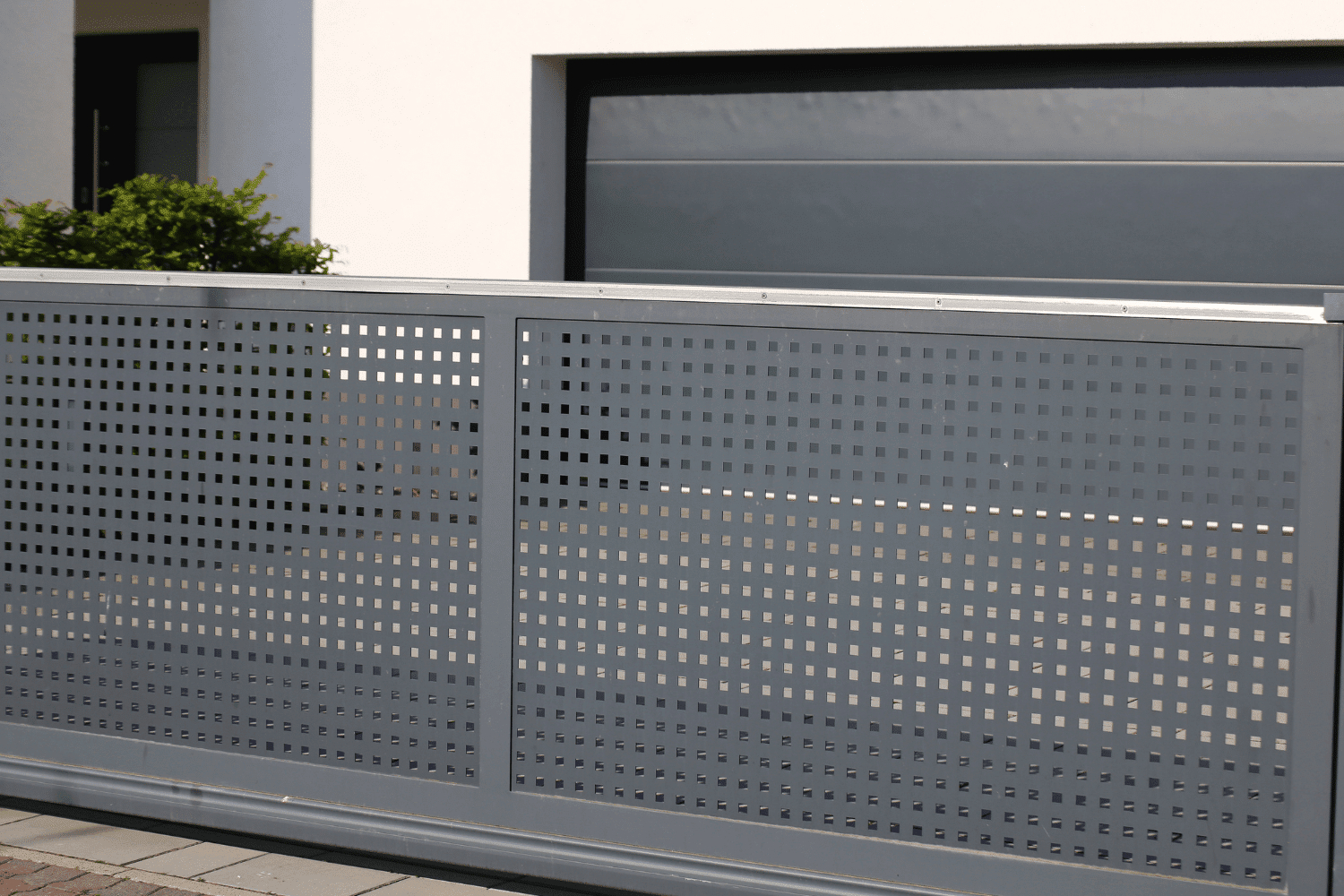 The benefits of a regular service
We've explored some of the tell-tale signs that indicate you may need an automatic gate repair, however, what are the actual benefits of a service? Firstly, we should note that the frequency with which you seek out a professional service can vary depending on how often your gates are used. Roughly speaking, we recommend:
Once per year: up to 15 cycles per day
Twice per year: up to 30 cycles per day
Four times per year: over 45 cycles per day
There are a variety of different benefits from having a regular, consistently scheduled service. These include:
The identification of a problem or fault before complete system failure occurs. A component repair or replacement will significantly improve the longevity of your automatic gates.
Remain health and safety compliant as you are regularly checking for any issues. Not only will you be meeting legislative standards, but reducing the risk of easily preventable accidents.
Less costly in the long term as you continue to upgrade and maintain your electric gates. Neglecting these essential annual services may see you requiring the premature replacement of your gates.
Avoid any common malfunctions. Your automatic gates may flag as unresponsive once in a while, but this should not regularly happen. A service will ensure the electrical components are not miscommunicating.
Documented reporting and engineer advice, both of which can put your mind at ease and increase the lifespan of your gates (ensuring you know when to next schedule your service and follow any small tips to increase the gate efficiency)
The engineer will perform a number of different checks when inspecting your system, from the alignment of hinges and oil leaks to the lubrication of hinges and intercom systems.
One of the key changes to have come about in the past decade has been the introduction of multiple safety devices to ensure the risk of someone getting trapped is almost completely eliminated. These devices include photocells (beams), safety edges and safety loops (underground metal detectors). Once installed, an electric gate undergoes numerous checks to ensure these are all working correctly, and again these will be checked during a service visit.
Do you need an electric gate repair? Choose WLS
Automatic security gates are a great investment for any property. However, unlike traditional gates, regular maintenance and servicing are of the utmost importance to ensure continued smooth operation with the correct amount of force.
Regular servicing not only ensures that your gates function correctly, but it also reduces the risk of accident and guarantees the system is fully compliant with the latest legislation. Furthermore, scheduling time for a check-over and electric gate repair annually is far less disruptive than a complete replacement, not to mention more cost effective too.
If you see one of the above signs or notice you are well overdue a service, it's important you choose a professional security company that has the expertise and experience to provide you with a high level of service. They'll be able to confidently identify any faults and offer a solution that ultimately will improve the lifespan of your automatic gate system.
WLS has been designing, testing and maintaining electric gates for over 25 years – we're the professionals you can trust and rely upon time and again. Are you looking to service your electric gates? Or require another security system servicing? Speak to us today at 020 8676 4300 or fill out a contact form, and we'll get back to you with more information about how we can assist.
WLS, creating a safe space for you.
Want to learn more? We recommend:
The WLS Guarantee – Creating Safe Spaces
* First Time Fix or Solution Provided Every Time *
We strive to be the World's Leading Security Company, with an uncompromising focus on customers and the solutions we deliver. Our WLS team knows how important it is to create safe spaces you can trust, whether for your family home or business. 
With over 30 years of experience in the industry, our expert team have closely followed the latest trends and developments in security technology. From our first installation to where we are now, our customers have always been our focus – providing an effective and high-quality result consistently. We're proud to offer our unrivalled WLS guarantee to each of our customers.