Going on holiday is an exciting prospect, though it's easy to get caught up in the excitement and forget what you're leaving behind! If you're heading off on holiday – whether it be abroad or closer to home in the UK, you want to leave with property peace of mind. Keeping your home safe whilst on staycation is something that commonly haunts us when we should be enjoying ourselves. Did I lock the front door? Did I close the garage? These are all common concerns that crop up, so how can we relax?
Securing your home will allow you to travel with maximum security. Of course, one of the key requirements when leaving a property empty, is disguising this fact. If a burglar can tell no-one is at home, they are far more likely to act. Today on the WLS blog, our team is running through their top tips to ensure you return home to no unwanted surprises and can fully enjoy a well-deserved staycation.
These measures can significantly improve a properties security, but only when installed correctly and maintained by an experienced team. Particularly before a holiday, you want to ensure all is in working order. So, if you have a security requirement, be sure to get in touch with us today!
#1 Protect your home with CCTV
There is no better deterrent than CCTV when it comes to keeping your home safe whilst on staycation. In recent years, this technology has become far more readily available and more affordable, seeing a surge in it's residential usage.
CCTV allows you to see exactly what is going on in and around a home, even when you're out. You can now connect the live images to a smartphone or tablet to view should you be worried whilst away. Potential criminals can see this visual security measure and understand the complications associated with the device – they are far more likely to be caught should they attempt to enter your property. Remember, most burglars are opportunists and therefore, won't go through the effort should they see a variety of security measures in place.
This is a relatively simple method that can significantly improve the safety surrounding a property; CCTV is a highly effective deterrent and definitely something to consider before you go on holiday.
#2 Alert your Alarm Receiving Centre
If you have a monitored intruder alarm system installed on a property, consider alerting an ARC of your absence. Should any unusual activity occur, they'll be able to react swiftly without your prior approval and procure a police response if required.
Letting your alarm receiving centre know you'll be away will allow you to relax as you'll know someone is monitoring the security of your property. Whilst a basic intruder alarm system can be effective, a monitored system allows for an additional level of security as a response is guaranteed. This is also the ideal opportunity to ensure all is in working order – false alarms can significantly damage your property's reputation and may see a reduction in the speed in which you receive a police response.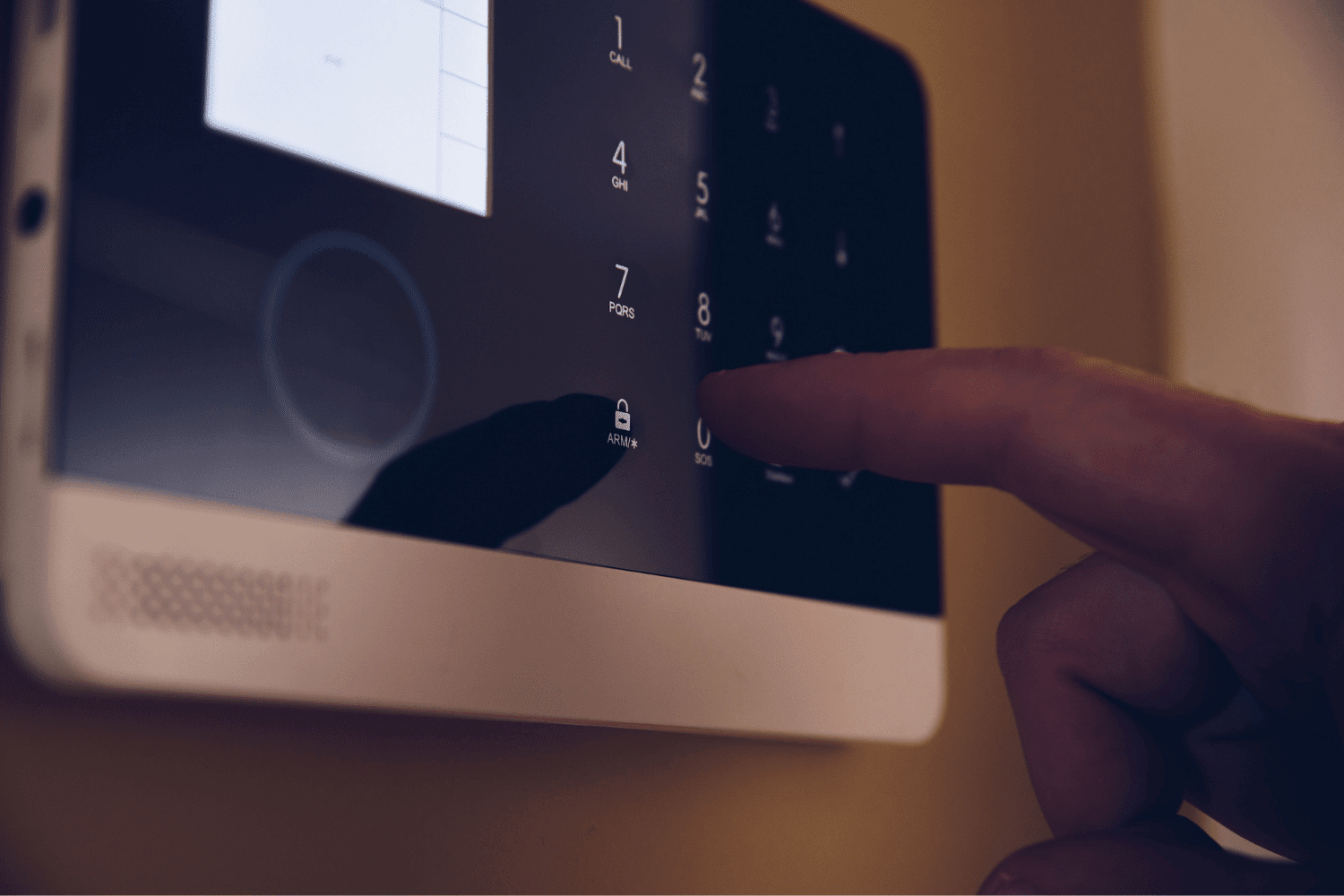 #3 Light sensitive monitors
Night is the most popular time for crime for obvious reasons, the cover of dark means it is far more likely a burglar can sneak in unnoticed by any passers-by. So, what can you do to prevent this? Whilst a timed light in your property can give the illusion that it is occupied, if this remains on during all hours it may raise suspicions. Instead, an external motion sensored light alongside an additional security measure such as CCTV or an intruder alarm can be highly effective.
Again, this may seem simple yet light is very effective as a deterrent. Speak to a professional installer and they'll be able to conduct a full risk assessment, tailoring their quotation to ensure a full integrated system is provided.
#4 Install an electric gate
Keeping your home safe whilst on staycation can be made far easier when you have an automated gate protecting your driveaway and thereby, preventing direct pedestrian access. You can fully eliminate the risk of unauthorised visitors using your driveway – climbing over this gate is likely to be seen by passers-by and can, therefore, deter any potential burglars from attempting to enter your premises.
In addition, our automated gates use a dial-up system for visitors to gain access. You can connect this to your smartphone or tablet and either grant access or alert the police of someone trying to enter into your property. This remotely controlled security system is ideal not only for guaranteeing the security of your home, but it also means any important deliveries or trades work can go ahead whilst you are away from home.
#5 Smart apps
We've already touched upon smart apps and how they can be utilised to remotely monitor your home's security. They've become hugely popular in recent years due to advancements in technology and now, are commonly used by homeowners across the UK. Although, as one of the more sophisticated options available, this is reflected in the price.
This expense, however, should be seen as a worthwhile investment. You'll be able to then remotely grant access and keep an eye on your property, allowing you instead to focus on enjoying your staycation!
#6 Fire alarm maintenance
When we speak about keeping your home safe whilst on staycation, often fire alarm maintenance is neglected as an essential part of this process. In the unfortunate event that a fire does break out whilst you are away from home, a working alarm can minimise the damage caused.
Of course, the main reason behind a fire alarm system is to keep those inside the property safe. But maintaining your system before you go away and combining this with a smartphone CCTV app can reduce the possibility of significant fire damage.
Keeping your home safe whilst on staycation
It can be stressful leaving your property unoccupied for an extended period of time. Yet, there are several different ways in which to improve the overall safety of your home. Ultimately, this will allow you to enjoy your well-deserved staycation with the knowledge your property's security has been optimised.
Of course, not all these security measures will be applicable for you, so be sure to contact a professional, long-established installation company to ensure your requirements are met. Furthermore, it's crucial the devices you have installed are readily maintained, otherwise you may be detracting from keeping your home safe whilst on staycation. Whilst each of these tips can serve as a visual deterrent to burglars, they still need to be working efficiently to provide a fully secure experience!
Why choose WLS as your security experts
WLS has been designing, testing and maintaining residential security systems for over 25 years in London and the surrounding area – we're the professionals you can trust and rely upon time and again. Our priority has always been our customers, providing a service that ensures you can feel confident when leaving your property unoccupied.
Do you need help choosing the best security system for your property? Speak to us today at 020 8676 4300 or fill out a contact form, and we'll get back to you with more information about how we can assist.
WLS, creating safe space.
Want to learn more? We recommend:
The WLS Guarantee – Creating Safe Spaces
* First Time Fix or Solution Provided Every Time *
We strive to be the World's Leading Security Company, with an uncompromising focus on customers and the solutions we deliver. Our WLS team knows how important it is to create safe spaces you can trust, whether for your family home or business. 
With over 30 years of experience in the industry, our expert team have closely followed the latest trends and developments in security technology. From our first installation to where we are now, our customers have always been our focus – providing an effective and high-quality result consistently. We're proud to offer our unrivalled WLS guarantee to each of our customers.