Selecting the right fire system installation, and making sure it is in working order, is a crucial element when ensuring overall safety – be it in a personal or business setting. It can, however, be difficult determining which alarm is most suitable, and which location is most appropriate; without expert advice, you may not be complying with the strict legislation in place.
In today's WLS blog post, we'll be sharing the expert advice you need to make the right decision. As a trusted fire system installation company, with over 30 years in the business, we know exactly how important it is to provide safety systems you can rely on.
Understanding the 3 different protocols
There are three different protocols to consider: closed, managed and open. Before choosing your fire alarm it is vital you understand how this decision will affect both your installation and future maintenance.
A closed protocol means that only the supplier of the equipment can alter and maintain the system. Whilst this can be beneficial to ensure a high level of communication is achieved between the components of the system, this does limit your experience. Should you decide you are no longer satisfied by the service you receive, you will have to install a completely new alarm even though your current device may still be in working order.
Managed protocol. All components made by the one manufacturer who will have a number of certified installers to choose from. This offers the customer the reassurance of being able to have the system maintained by another company should they wish to at a later date.  Such systems also ensure that all the component parts work harmoniously together. For example, WLS are Gent 24 approved meaning we have been selected by the manufacturer as reliable installers of their product.
Open protocol systems can be installed and serviced by any company with the necessary know-how but lack the manufacturer's oversight associated with closed and managed protocol systems.
Addressable fire system installation  vs conventional
A conventional alarm is ideal for small buildings, such as individual offices or small-scale retailers. They go off when they detect smoke or heat and will help everyone escape from your building safely and quickly.
Addressable fire alarms are a necessity for large building complexes or campuses. They can be customised in a variety of different ways such as:
Different devices having different alarm thresholds based on their location
An annunciator panel in the front of your building to show exactly which devices or zones have been triggered
Scalable networks that allow you to add zones with ease
Addressable fire alarm systems are typically more expensive than conventional alarms, but the extra information they provide to firefighters and building managers is invaluable.
Opting for an alternative to conventional systems
Conventional, or four-wire, fire alarm systems have been used extensively over the years, particularly within smaller properties such as shops and restaurants. A less expensive option, they will divide the building into several detection zones. However, should there be an activation it can be difficult to pinpoint the exact location that has triggered the offset.
With a recent rise in main-stream use, a trusted fire alarm installation company should also offer VESDA, also known as very early smoke detection apparatus. WLS have installed this system for over 15 years, and have extensive knowledge to ensure you can rely on this intelligent range of equipment.
A VESDA system employs a 25mm continuous plastic tube which "sniffs" air samples that have been drawn in through small holes drilled into the pipe. This intelligent "sniffing" is performed by the most up-to-date laser-based technology, contained within the main control panel. A fire alarm installation company may suggest this equipment as particularly suitable for:
High-level detection; providing a robust and reliable means of detection. VESDA systems can be used for automatic fire identification up to the height of 40 metres, as opposed to the traditional point-type alarm suitable up to only 10.5 metres.
Discreet installation; avoid detracting from the architectural appearance of a property with a system that can be made virtually invisible – whether it be for a high-value home or heritage site. The air sampling pipework can be hidden within floor or ceiling voids, requiring just a small ceiling incision.
Difficult environments; should you require a solution for a harsh, or cold environment a point-detection alarm may struggle with such areas whereas a VESDA will be able to operate effectively.
Ease of servicing; servicing can be carried out at the main control panel, rather than requiring access to the ceiling or floor voids making it ideal for popular properties.v
Which grade of alarm is most suitable?
There are several different levels of fire alarm, each offering a different level of protection. The eight categories are:
L1 – the highest level of automatic detection, offering maximum protection. L stands for life protection.
L2
L3
L4
L5
P1 – the highest level of property protection, reducing the risk of damage to specific areas. The P stands for property, however, this does not take into consideration personal safety and is therefore deemed less suitable.
P2
M – manual system, the least sophisticated option that requires occupants to raise the alarm.
A top-rated fire system installation company like WLS will usually focus only on grades designing and installing levels L1 to L4, their priority being on the safety of those in a building.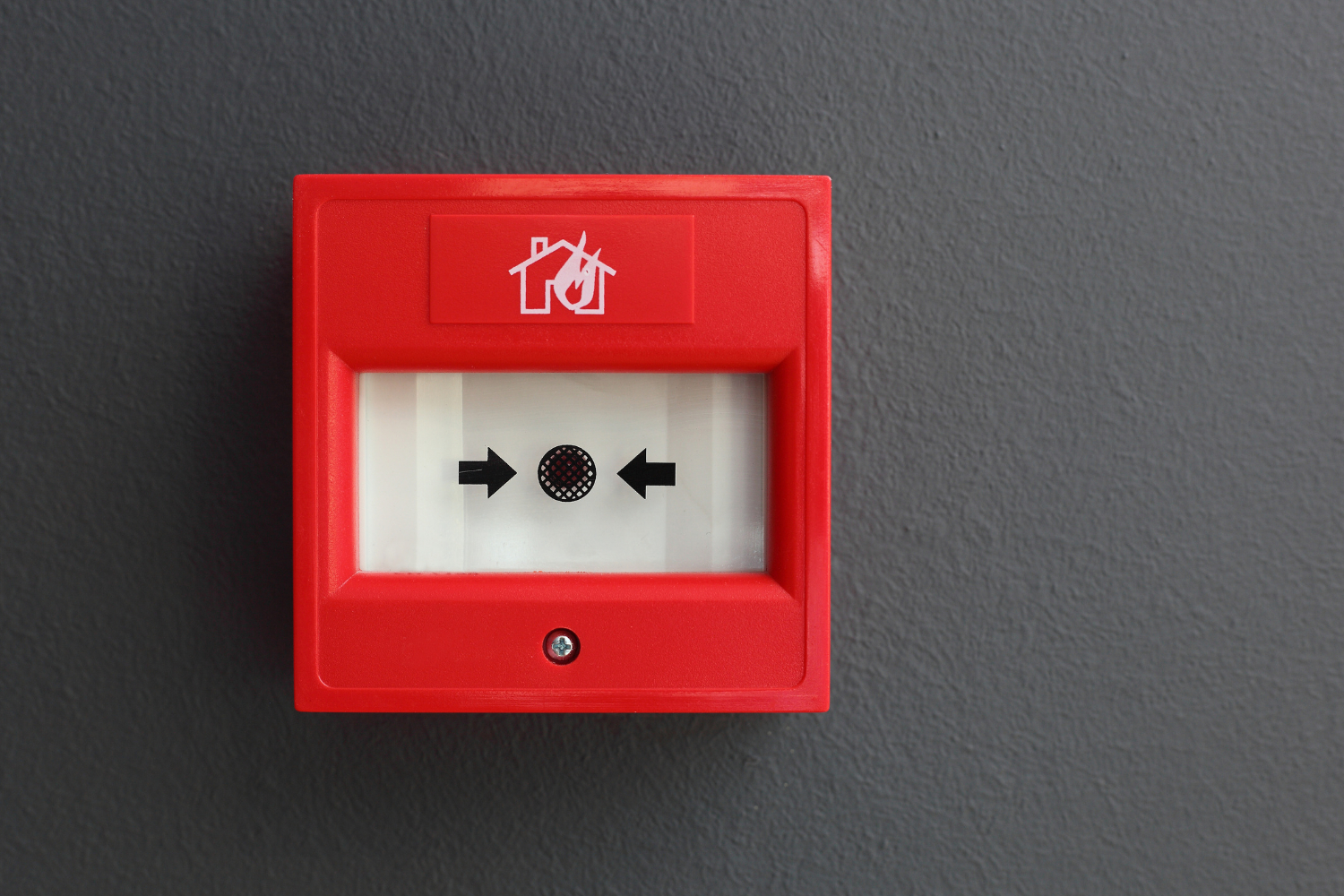 Heat or smoke?
What's the difference between the two? In a nutshell: heat detectors are intended to minimize property damage by reacting to the change in temperature caused by a fire. Whereas, smoke detectors are intended to protect people and property by generating an alarm earlier in the development of a fire. People need time to react, and every second is critical during an actual fire event.
Some fires "smoulder", or burn very slowly with few flames. Burning slowly causes incomplete combustion, which in turn generates more smoke, carbon monoxide, and other poisonous gases. Furthermore, these slow-burning fires generate very little heat, making detection difficult when using a heat-reacting alarm. It's important to understand that the main culprit causing harm to people during a fire is almost always the smoke and poisonous gases, not the heat or flames.
Wireless vs cabling
It's fairly simple to understand the difference between a wireless and cabled system, but it can be difficult understanding which is most suitable for your needs.
On the whole, a cabled fire alarm system will be a cheaper option and in theory, these tend to be more reliable – should the mains-power fail, they are bolstered with a battery back-up, just in case. Wireless alarms can't afford this luxury, however, they do offer a greater range of flexibility for relocation and can be useful if cabling isn't a viable option. In addition, the fire system installation is quicker whilst also offering a more attractive finish.
If you choose to stick to a traditional cabled option, ensure the material used is a FP200 – a durable, tough, fire-resistant cable that meets British Standards.
Cause and effect programming considerations
Cause and effect refers to the programming of a fire alarm system, where the output or result of an input activation can be changed according to the requirements of the application. Examples may include:
If the fire alarm goes off the lift is automatically brought down to ground floor level.
Linking to a central monitoring station that enables fire brigade attendance.
The fire alarm system is programmed to identify and only go into full alarm mode when two devices from different zones or the same zone are activated.
Configured to activate sounders in different parts of a building to alarm in a staggered (or phased) sequence. The sounders in rooms where a fire is detected are set to alarm first.
Using an approved fire alarm installation company
It's not enough to choose a type of alarm and where you want to install it, to ensure you meet regulations you should be using a trusted, professional company. The installer should be BAFE approved and registered (or another major provider), guaranteeing a high level of service that complies with British Standards.
Furthermore, the designer of your overall system should have completed the necessary FIA courses ensuring the fire system installation follows the best safety practices. Failure to do so could cause major safety obstacles and require costly adjustments.
Pricing
Cost is always a factor, however, it should not take priority and determine the quality of your safety system. Per point i.e. a detector, call point or interface you are looking at £190, with the main control panel and commissioning costing £2000. Making the right decision and ensuring safety is a worthwhile investment.
Whilst it can seem like a heavy burden ensuring you choose the right alarm and location, employing a reliable fire system installation company can put your mind at rest.
Are you looking for some more advice? WLS can design, install, test and maintain the system giving you a full turnkey solution you can rely on. Speak to our dedicated staff with over 30 years in the industry at 020 8676 4300 or fill out a contact form, and we'll get back to you with more information about how we can assist.
Creating a safe space for you.
Want to learn more? We recommend:
The WLS Guarantee – Creating Safe Spaces
* First Time Fix or Solution Provided Every Time *
We strive to be the World's Leading Security Company, with an uncompromising focus on customers and the solutions we deliver. Our WLS team knows how important it is to create safe spaces you can trust, whether for your family home or business. 
With over 30 years of experience in the industry, our expert team have closely followed the latest trends and developments in security technology. From our first installation to where we are now, our customers have always been our focus – providing an effective and high-quality result consistently. We're proud to offer our unrivalled WLS guarantee to each of our customers.