Automatic Bi-Fold Gate
Streamline your driveway access with an electric bi-fold gate. Maximise your space and make the entryway look fantastic.
The Benefit
An automatic bi-fold gate design takes into consideration space constraints and enables individuals to make use of their limited space.  The electric bi-folding gates will typically use an access control system; at WLS we use only the best suppliers to ensure your gate system is of the highest quality. Retain the space to park your car whilst having a gate that can open and close within the limited area. You'll be surprised how much easier it is to access your drive while keeping it secure. Keep reading for some more features that might pique your interest.
Full Range Of Electric Gate Automation Systems
WLS has been manufacturing and installing bi-fold, swing gates and sliding security gates in London and South East England for more than 25 years. We can provide steel, aluminium and wooden gates and use innovative, high-quality gate automation technology to design and install the very best security systems. We are Gate Safe approved and have our own dedicated security gate automation and fabrication workshop that allows us to create bespoke and standard designs to complete your home or business.
Space Saving
Bi-fold swing gates are commonly used in driveways where this is not sufficient space for swing or sliding gates. Limited space for gate automation may include a sloping, curved or short driveway – this is a key design consideration. Obstacles such as a risen driveway, parked cars, walls, plants or the house itself may prevent traditional gate systems from functioning correctly. That's where our experts can help. The team will talk you through the most accessible options and how we can design something to suit you. WLS have the solution!
Faster Opening Times
The reduction in the space needed to move an automatic bi-fold gate means the system is far quicker than a sliding or swing gate. The design of the gates may allow them to move faster, but this limited space will require a specialist design to ensure you can achieve a quick opening time. The benefit of this is that you can enjoy the ease of entry and exit while ensuring your home or business is as secure as can be. While we aren't keeping them open for longer than needed, you're ensuring people you want out, stay out. Every second counts, so talk to WLS today about bi-folding gate options.
Avaliable trackless
Technological improvements in gate automation mean that bi-folding gates can now be installed on a trackless system. Whilst previously wither a track in the ground or overhead rails were required, the system can now operate without this installation. Tracks require regular cleaning to remove excess dirt and debris that could damage the gates from functioning, so you can rest assured your system will continue serving its purpose correctly. You'll also notice how quiet they are – no more creaking or clicking, just perfect gate solutions.
Gate Options
Our customers love the wide range of options we have in store. Not sure if we've got what you're looking for? Give us a ring on 020 8676 4300 today.
Steel, stainless steel or timber material options
Wide range of polyester powder coated colour finishes
Bespoke and standard designs available
Gates can be made to match any type of fencing
Names or logos can be added to the front of the gates
Standard or high-speed options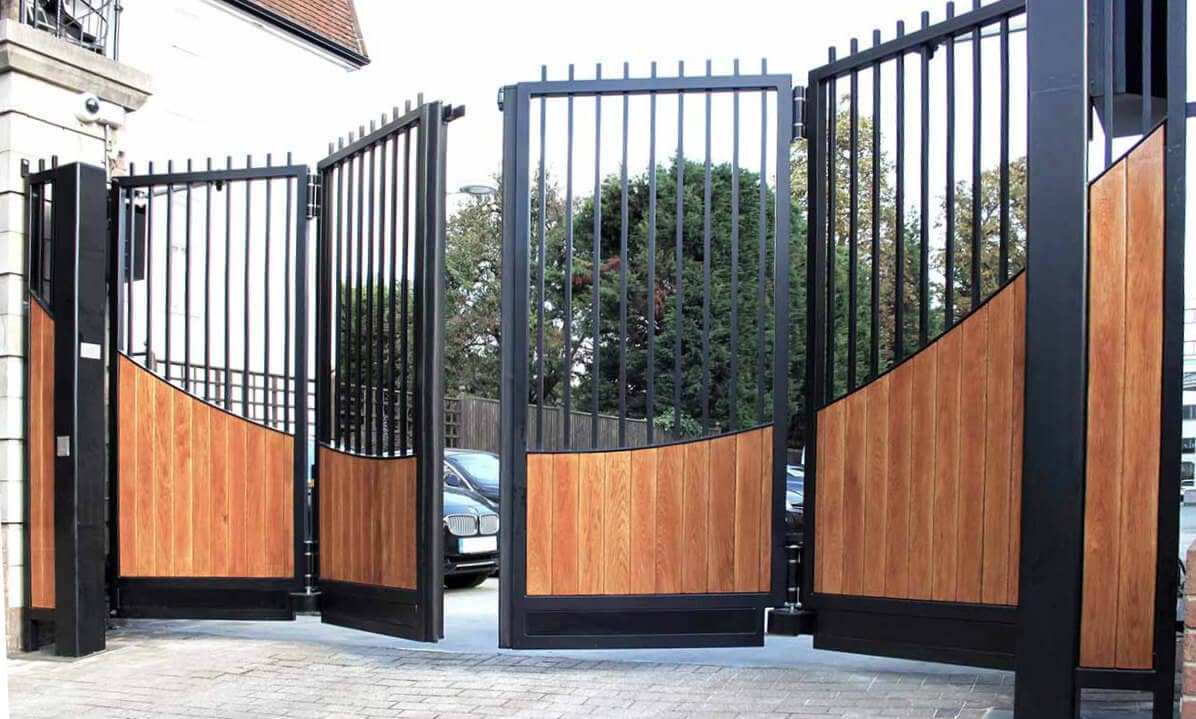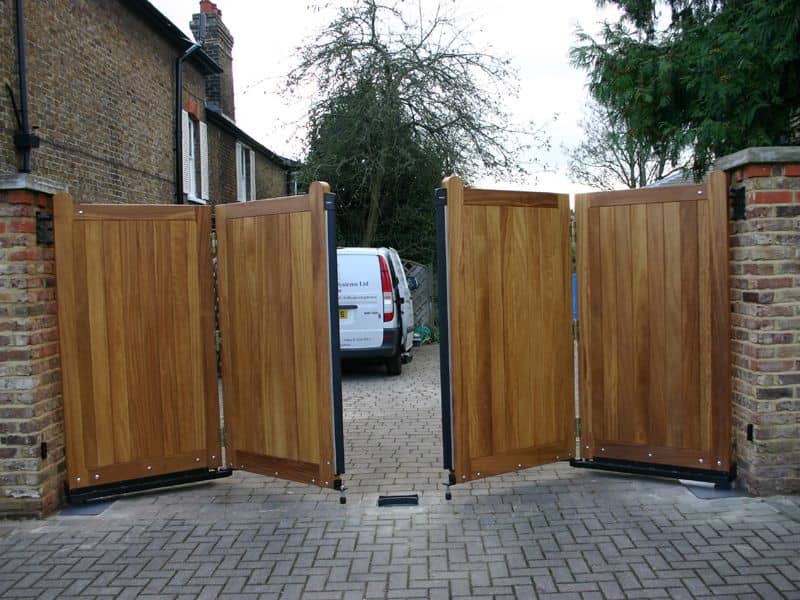 Talk To Us About A Security Gate Installation Or Automated Gate Repair
WLS is one of the leading security gate suppliers in London and the South East. We are FAAC approved with a full range of security industry accreditations. We take a flexible, agile approach to understand your environment and your needs, regardless of the size or scope of the project.
We employ the very best engineers and technicians, all of whom bring their own unique skills and experience to the business. Whatever your security system or gate requirements, you can expect expert advice and cutting-edge installations. For a free site survey and quotation, call us on 020 8676 4300 or fill out our contact form.
The WLS Guarantee – Creating Safe Spaces
* First Time Fix or Solution Provided Every Time *
We strive to be the World's Leading Security Company, with an uncompromising focus on customers and the solutions we deliver. Our WLS team knows how important it is to create safe spaces you can trust, whether for your family home or business. 
With over 30 years of experience in the industry, our expert team have closely followed the latest trends and developments in security technology. From our first installation to where we are now, our customers have always been our focus – providing an effective and high-quality result consistently. We're proud to offer our unrivalled WLS guarantee to each of our customers. 
Our Work
admin
2021-10-18T07:54:25+00:00
Fire alarm maintenance at New Covent Garden Market, Nine Elms, SW8
admin
2021-09-21T02:10:08+00:00
CCTV Security System Installation At Vauxhall City Farm
admin
2021-09-21T01:29:15+00:00
Electronic Security Systems With Access Control At The Hudson, London
admin
2021-10-18T07:54:25+00:00
Fire alarm maintenance at New Covent Garden Market, Nine Elms, SW8

We are a Primary school in the Wembley area, we had new automated and pedestrian gates installed. I must say that I have been most impressed from start to finish, the whole process has been a positive experience. The professionalism, helpfulness and willingness to go above and beyond what was agreed to ensure everything went smoothly. I can't praise these guys enough they made the whole process seem really easy. I would without hesitation recommend these guys. You will be good hands without question. Keep up the good work, it doesn't go unnoticed.