Bi Folding Electric Gates
Save space and make an impact with some of the latest, bespoke bi folding electric gates from WLS.
Electric Bi-Fold Gate
Bi-folding electric gates are the ultimate space-saving option for your driveway. They're perfect for small driveways or funny-shaped entrances. Don't worry about obstacles, we have the perfect product. As specialists in access control, we can also integrate a system to give you the most secure and efficient access to any property. Not only this, we have a range of materials from metal to wood for you to choose from. Whether made bespoke or chosen from our product list – we have the solution for you.
Full Range Of Electric Bi-Folds
Our team has been installing and manufacturing gates throughout London and the South East for over 25 years. We have the best quality selection of aluminium, steel and wooden gates that can be designed bespoke to your criteria. Our wood is forced from sustainable, managed forests and any product you choose will look amazing for years to come. We are Gate Safe approved and even have our own fabrication workshop where we create all of our products in house.
Space Saving Solution
We've seen it before where people's driveways are too short, sloped or curved for a traditional gate installation. This is when we usually turn to bi-folding electric gates as they can navigate the obstacles that others can't. Where it would be difficult or impossible for another style of gate to function, the bi-folding option can streamline your entrance perfectly. You still have all the design options as you would with sliding or swing gates, but there are some different benefits and advantages that come with a bi-fold option.
No Noise
Sometimes you can be hyper-aware of the mechanism in electric gates as they tend to have their own noise. But bi folding electric gates are perfect for keeping your neighbourhood quiet. They run with a near-silent system so you can move in and out effortlessly with no disruption. Because of this, they are a popular option for people living in close-knit neighbourhoods or with short driveways that are close to the front of the property. You don't need to worry about waking people up with an early start, or wondering – "should it be making that noise?"
Trackless Electric Gates
New technological advances mean bi folding electric gates can now run without in-ground tracks or overhead rails. As well as an easy installation, you're not going to need to worry about maintaining the tracks or removing dirt and debris that could stop them from functioning. This is part of the reason they function so quietly. It also means you'll have less disruption to your driveway as we won't need to lay anything or dig up your drive. You'll have beautiful gates that run smoothly for years.
What's On Offer?
Just like our other styles, bi-folds come with a host of design and installation options. Can't find what you're looking for? Just give us a call!
Steel, stainless steel or timber material options
Wide range of powder-coated colour finishes
Bespoke and standard designs available
Gates can be made to match any type of fencing
Names or logos can be added to the front of the gates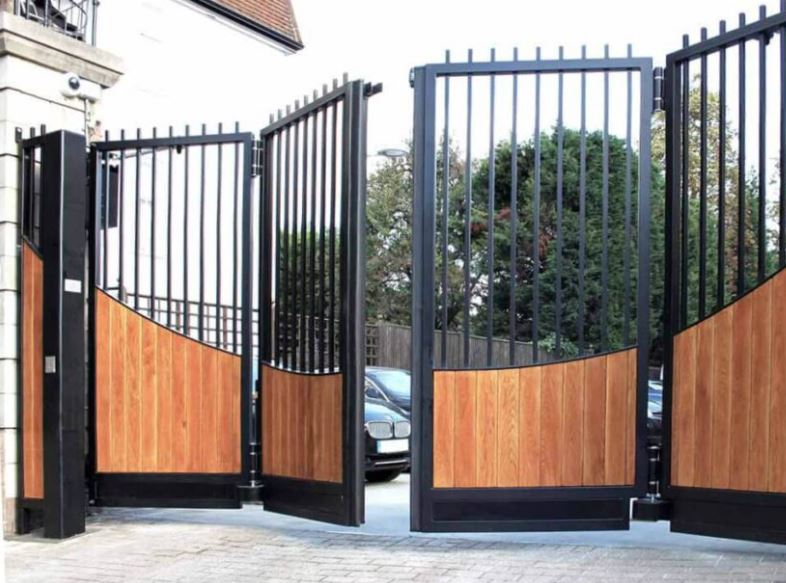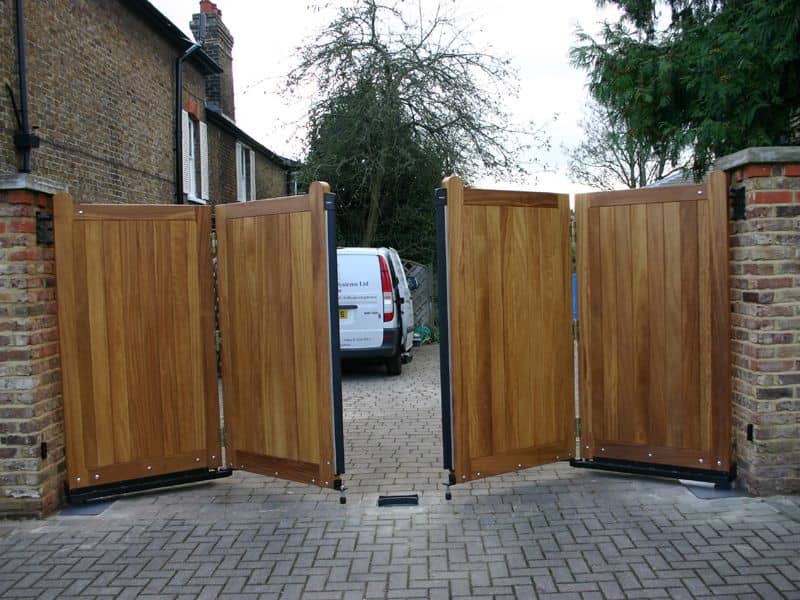 Talk To Us About A Security Gate Installation Or Automated Gate Repair
WLS is one of the leading security gate suppliers in London and the South East. We are FAAC approved with a full range of security industry accreditations. We take a flexible, agile approach to understand your environment and your needs, regardless of the size or scope of the project.
We employ the very best engineers and technicians, all of whom bring their own unique skills and experience to the business. Whatever your security system requirements, you can expect expert advice and cutting-edge installations. For a free site survey and quotation, call us on 020 8676 4300 or fill out our contact form.
The WLS Guarantee – Creating Safe Spaces
* First Time Fix or Solution Provided Every Time *
We strive to be the World's Leading Security Company, with an uncompromising focus on customers and the solutions we deliver. Our WLS team knows how important it is to create safe spaces you can trust, whether for your family home or business. 
With over 30 years of experience in the industry, our expert team have closely followed the latest trends and developments in security technology. From our first installation to where we are now, our customers have always been our focus – providing an effective and high-quality result consistently. We're proud to offer our unrivalled WLS guarantee to each of our customers. 
Our Work
admin
2021-10-18T07:54:25+00:00
Fire alarm maintenance at New Covent Garden Market, Nine Elms, SW8
admin
2021-09-21T02:10:08+00:00
CCTV Security System Installation At Vauxhall City Farm
admin
2021-09-21T01:29:15+00:00
Electronic Security Systems With Access Control At The Hudson, London
admin
2021-10-18T07:54:25+00:00
Fire alarm maintenance at New Covent Garden Market, Nine Elms, SW8

Emergency call-out for a faulty house alarm. Boss Matthew was very helpful on the phone, especially given my vague description of the system. The engineer was round within a couple of hours and sorted things very quickly. 10/10 would definitely recommend.