Automated Security Gates
Work with WLS to create a safe space from start to finish and make it easy to control the safety of your home or business.
Automated Security Gates
When you think about adding security gates to your property, you're probably considering three things. Will it make us safer? Will it look nice? And will it add value should we want to sell? With WLS, the answer to all of those can be yes. All you need to do it work with us to design and choose the right gates for you. Then you'll have experts installers and engineers to do the rest of the work – stress free!
Full Range Of Automated Security Gates
WLS has been manufacturing and installing automated security gates in London and South East England for more than 25 years. We can provide steel, aluminium and wooden gates to help make your control of access and entry more efficient. We are Gate Safe approved and have our own dedicated security gate automation and fabrication workshop. We offer free quotes and expert advice so you can rest assured you're getting the most for your money. Don't hesitate to call and ask questions or find out more about our range of products. Our team are on hand to help and discuss your best solution at 020 8676 4300.
Steel Gates
Durable, strong, secure and economical. These are just a few of the benefits that steel automated security gates will provide you with. Its strength allows you to achieve more detailed and complex designs to completely transform the look of your entryway while ensuring the highest levels of security. WLS manufactures, installs and automates top-quality galvanised steel gates. Our black power-coating adds an extra layer of durable protection that could last up to 50 years.
Wooden Gates
If you're wanting more elegance and perhaps more privacy with your automated security gates, our traditional wooden selection may be the right one for you. We source our timber from sustainable means and each gate will improve aesthetically over time. So watch your entrance weather and age like a fine wine! You'll be surprised at how lovely they look for years to come. (Especially if you treat them correctly – wooden gates can last much longer than metal gates.)
Security Fencing With Gates
WLS can provide you with even more comprehensive security with our huge range of security fencing. Sometimes you will be looking for protection over privacy (or both!) so you'll want a little more. Our security fencing can be integrated with automated security gates to give you the level of protection and privacy you require. The robust fencing will ensure you're entire perimeter is secure and you can rest assured that expert engineers and technicians have worked their magic. Get in touch to discuss our range of designs and materials.
Aluminium Gates
For those on a budget, aluminium gates are a great alternative. Being lightweight, sturdy and low maintenance, aluminium gates cause less wear and tear to the gate automation system. WLS use a specialist workshop to tailor-make the best quality aluminium security gates in a number of colours and styles as required.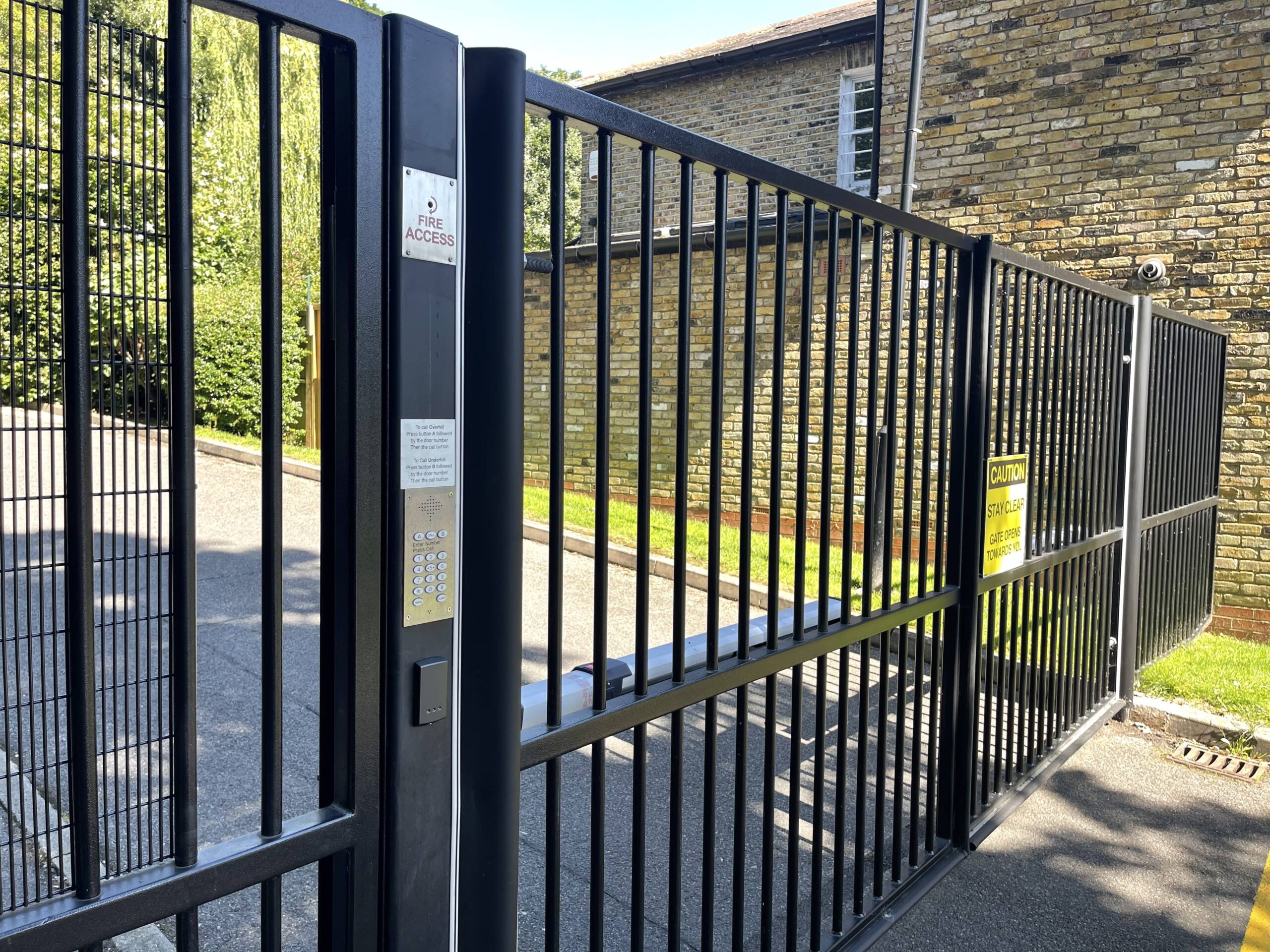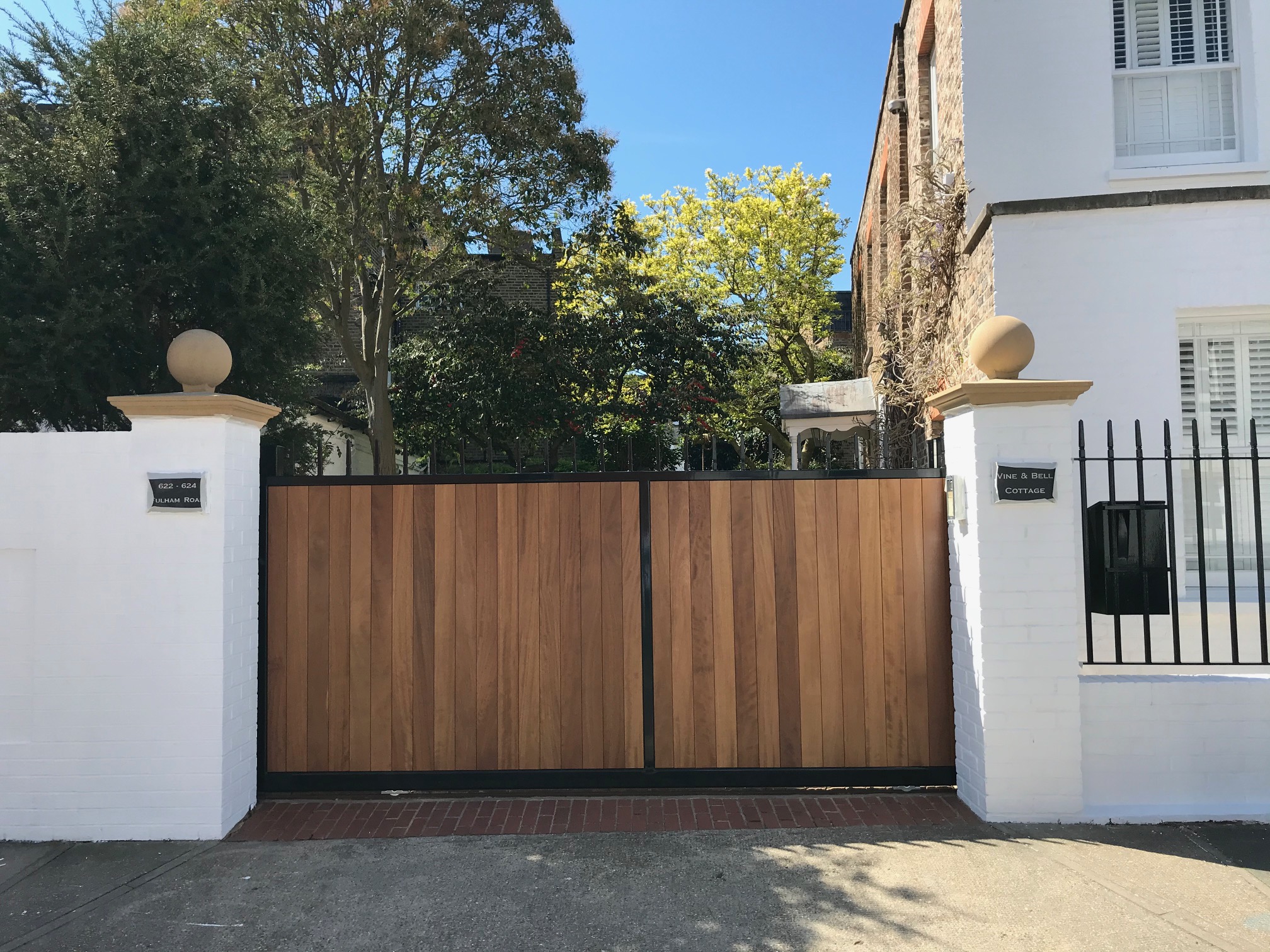 Talk To Us About A Security Gate Installation Or Automated Gate Repair
WLS is one of the leading security gate suppliers in London and the South East. We are FAAC approved with a full range of security industry accreditations. We take a flexible, agile approach to understand your environment and your needs, regardless of the size or scope of the project.
We employ the very best engineers and technicians, all of whom bring their own unique skills and experience to the business. Whatever your security system requirements, you can expect expert advice and cutting-edge installations. For a free site survey and quotation, call us on 020 8676 4300 or fill out our contact form.
The WLS Guarantee – Creating Safe Spaces
* First Time Fix or Solution Provided Every Time *
We strive to be the World's Leading Security Company, with an uncompromising focus on customers and the solutions we deliver. Our WLS team knows how important it is to create safe spaces you can trust, whether for your family home or business. 
With over 30 years of experience in the industry, our expert team have closely followed the latest trends and developments in security technology. From our first installation to where we are now, our customers have always been our focus – providing an effective and high-quality result consistently. We're proud to offer our unrivalled WLS guarantee to each of our customers. 
Our Work
admin
2021-10-18T07:54:25+00:00
Fire alarm maintenance at New Covent Garden Market, Nine Elms, SW8
admin
2021-09-21T02:10:08+00:00
CCTV Security System Installation At Vauxhall City Farm
admin
2021-09-21T01:29:15+00:00
Electronic Security Systems With Access Control At The Hudson, London
admin
2021-10-18T07:54:25+00:00
Fire alarm maintenance at New Covent Garden Market, Nine Elms, SW8

Emergency call-out for a faulty house alarm. Boss Matthew was very helpful on the phone, especially given my vague description of the system. The engineer was round within a couple of hours and sorted things very quickly. 10/10 would definitely recommend.