Automatic Gates
Impress the neighbours with some of the latest driveway security from WLS.
Create A Safe Space using Automatic Gates
Automatic gates are becoming more sought after for security purposes. People want to feel safe in their home and business, but also want them to blend in nicely. That's where our broad range of styles and materials offer the perfect solution. From durable, high-security steel to a closed-face wooden gate that looks natural and offers more privacy.
No matter the solution you are looking for at your premises, WLS can help.
Decades of Experience
Covering London and the South East with stylish and intelligent automatic gates for over 25 years comes with its advantages. We now work with some of the leading experts in the industry and can offer you bespoke or standard installation options. We are Gate Safe approved and have a dedicated fabrication workshop where we turn your designs into products to be proud of.
When it comes to automatic gates there's not much our teams don't know.
Steel
Most commonly seen in commercial properties and areas with high-security needs, steel gates are chosen for their strength and durability.
Not only do they hold up well against force – the strong material allows you to create some really detailed designs.
For a secure but intricate entryway, steel may be the material for you. Our black powder coating also adds an extra layer of protection that could last up to 50 years.
If you would like to discuss options using steel as the main material please contact our sales team today.
Timber
We're seeing more timber gates in residential properties now than ever before. They're quite traditional and reflect the old 'picket fence' style we know and love.
Closed-face gates offer a lot more privacy than metal railings as you cannot see through (great for the security-conscious). So if you're trying to escape unwanted attention – take a look at what wooden designs WLS can come up with!
Pedestrian Access
The main priority for access through electric gates is usually vehicles. But people who are coming in and out on foot also need to be considered in any future solution you install.
One option is a separate pedestrian access gate. However, if you don't fancy that or don't have the space – our automatic gates don't need to open all the way every time. By programming them to open just a fraction to allow pedestrians through, you're reducing the unnecessary strain on the mechanism whilst providing a solution that works for everyone.
Aluminium
It can be a costly investment to install electric gates, but aluminium provides a budget-friendly option. They are still strong and durable so will provide you with great security and last a long time. They're also lightweight which means they require less force to open and close – making them a really safe option. This also means there is less strain on the electrics, so you'll find it low-maintenance too!
Interested in an aluminium gate? Check out our dedicated aluminium gates brochure for further details. If you have any questions please reach out to us as we're happy to help.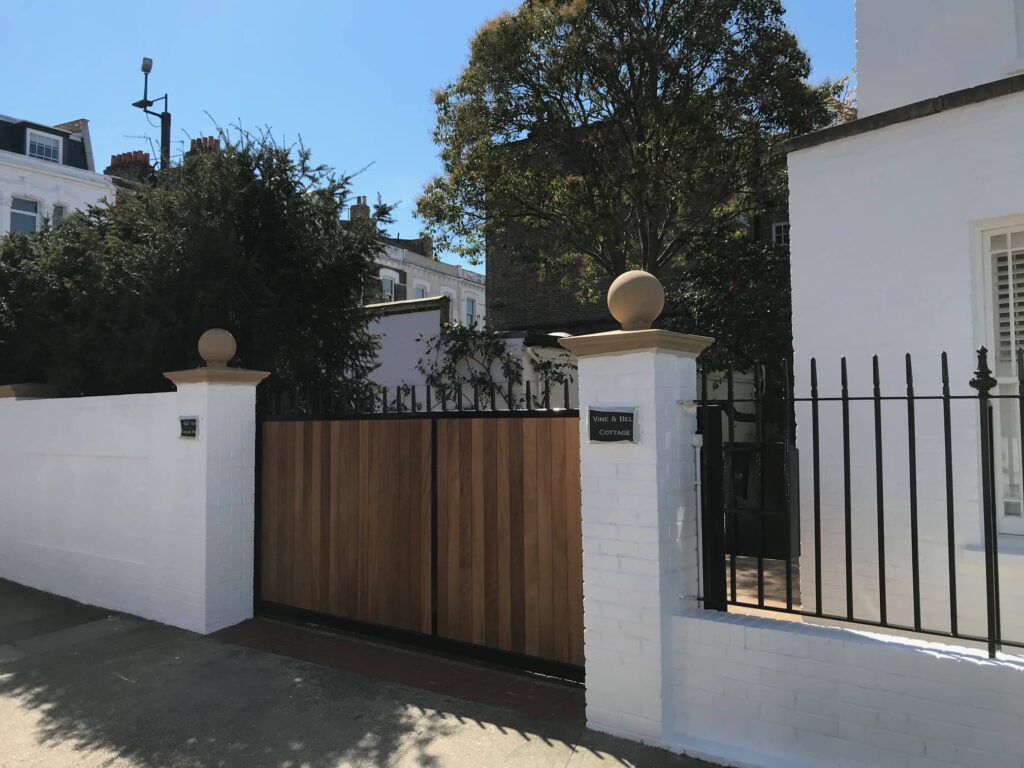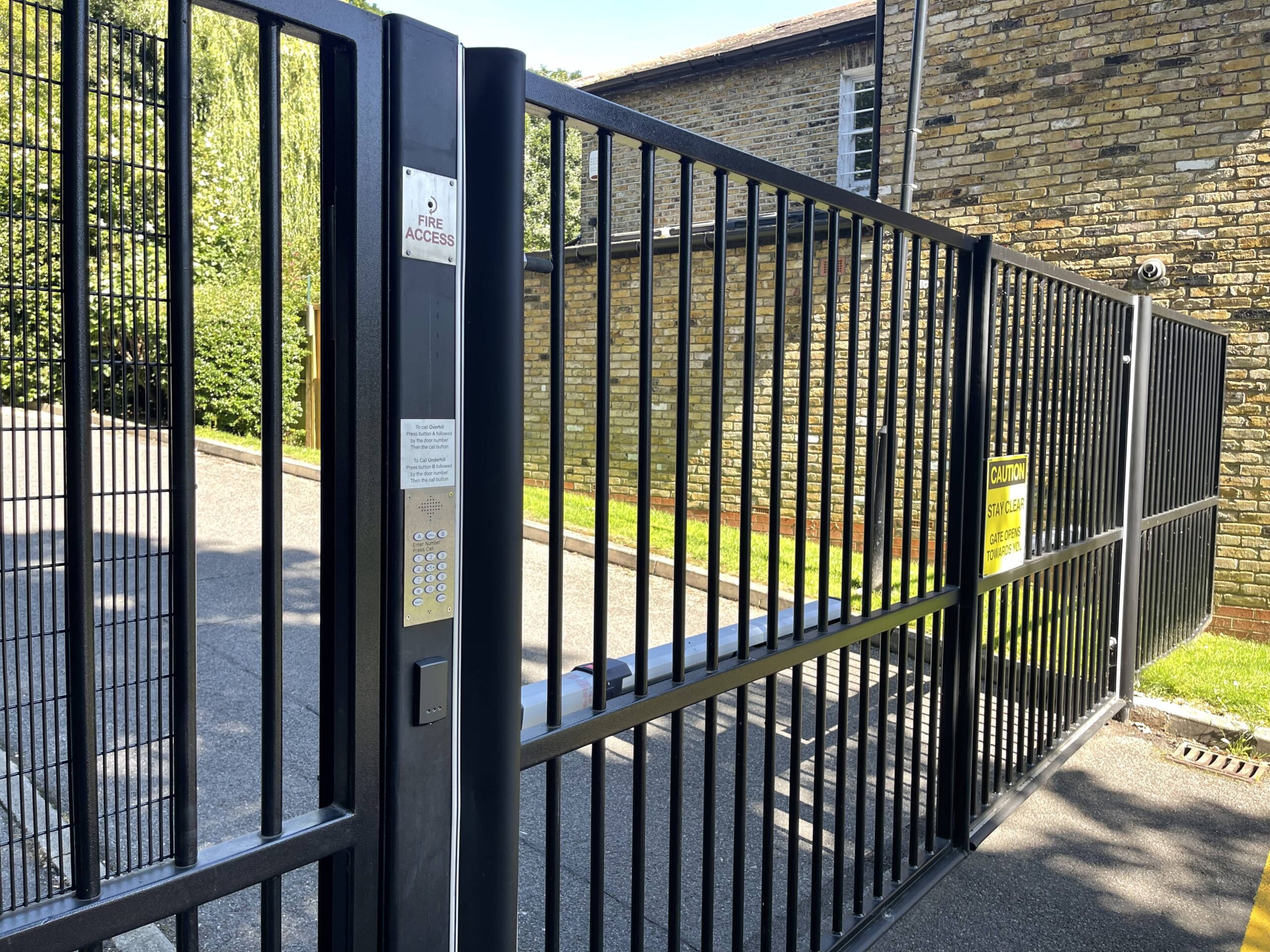 Talk To Us About A Security Gate Installation Or Automated Gate Repair
WLS is one of the leading security gate suppliers in London and the South East. We are FAAC approved with a full range of security industry accreditations. For a free site survey and quotation, call us on 020 8676 4300 or fill out our contact form.
The WLS Guarantee – Creating Safe Spaces
* First Time Fix or Solution Provided Every Time *
We strive to be the World's Leading Security Company, with an uncompromising focus on customers and the solutions we deliver. Our WLS team knows how important it is to create safe spaces you can trust, whether for your family home or business. 
With over 30 years of experience in the industry, our expert team have closely followed the latest trends and developments in security technology. From our first installation to where we are now, our customers have always been our focus – providing an effective and high-quality result consistently. We're proud to offer our unrivalled WLS guarantee to each of our customers. 
Our Work
admin
2021-10-18T07:54:25+00:00
Fire alarm maintenance at New Covent Garden Market, Nine Elms, SW8
admin
2021-09-21T02:10:08+00:00
CCTV Security System Installation At Vauxhall City Farm
admin
2021-09-21T01:29:15+00:00
Electronic Security Systems With Access Control At The Hudson, London
admin
2021-10-18T07:54:25+00:00
Fire alarm maintenance at New Covent Garden Market, Nine Elms, SW8

We are a Primary school in the Wembley area, we had new automated and pedestrian gates installed. I must say that I have been most impressed from start to finish, the whole process has been a positive experience. The professionalism, helpfulness and willingness to go above and beyond what was agreed to ensure everything went smoothly. I can't praise these guys enough they made the whole process seem really easy. I would without hesitation recommend these guys. You will be good hands without question. Keep up the good work, it doesn't go unnoticed.