Electric gates act as a convenient and secure security measure, making them a top choice for residential and commercial buildings. From deterring opportunistic intruders to limiting access to your driveway; it's clear to see electric gates offer a variety of benefits making them a popular choice for many. 
Once installed, you may think you can sit back and let your electric gates do the work. However, keeping your gates well-maintained by a gate specialist is crucial to ensure they stay in top condition. 
It's tempting to grab your toolbox and have a go yourself, particularly if it doesn't seem to be a major issue. However, it certainly isn't recommended! Still need convincing? The WLS team are today detailing why you should consider a specialist for any gate security maintenance you need. 
Identifying the problem with a site survey conducted with a gate specialist
To ensure the problem has been identified correctly and are able to resolve it to the highest of standards, you'll need to have an in-depth knowledge of the inner workings of electric gate systems. Therefore, you'll need to enlist the expertise of a trained professional. Upon arrival, they'll conduct a site survey to get to the very root of the problem straight away. As a result, they'll be able to deal with the problem quickly and comprehensively whether it's a small fix or a more major replacement. 
Minimising the risk of making it worse
Without the assistance of a trained professional, an issue may remain unresolved even after you've attempted a repair. In fact, trying to solve the problem may mean that you actually make the original problem worse and you could end up needing a full replacement rather than a simple repair. It's likely this end up taking more time (not to mention cost more too) than if you'd have hired a professional in the first place. 
Tampering with electrical components that control the gate system could easily lead to more serious damage if not handled carefully. Our WLS engineers are all trained in accordance with British Regulation Standards and we guarantee a first-time fix or a solution with every call out.  
A first-time guarantee
The risk of something going wrong again once after you've had a professional come to maintain or repair is significantly reduced. At WLS, we pride ourselves in guaranteeing a first-time fix – a promise unrivalled in the industry. We offer:
A first-time fix or a solution on every call out.

If for some reason we can't fix the problem the first time, we will propose a solution and deduct the call-out charge from the cost.

If we cannot propose a solution we will refund the call-out charge.
Work with a reputable company and avoid unnecessary additional expenditure. 
Putting yourself at risk
Unless you're a trained professional, undertaking electrical repairs could result in injury or another issue, Put your safety first and hire a professional that understands how to repair electric gates. Remember, you can't put a price on safety.
An experienced gate specialist whilst know how to keep themselves and anyone else in the surrounding area safe. 
Cost-effective
You may be put off by the idea of hiring a professional to take care of your electric gate repair as this can seem costly in comparison to a DIY job. Or, if you are trying to save the pennies even more so, you may try and ignore the problem altogether. But, there are three main reasons as to why attempting the fix yourself could actually end up costing you more money:
To fix the problem, you'll have to invest in the appropriate tools if you don't already own these. It's an additional payout often not considered.

If you make the problem worse, you'll have to call out a professional anyway. Plus, the repair will likely now be more difficult to resolve which inevitably be more expensive.

Even if you do fix the original problem, the results may not be as long-lasting as they would be if performed by a professional. So, you may have to pay out again for repairs soon after.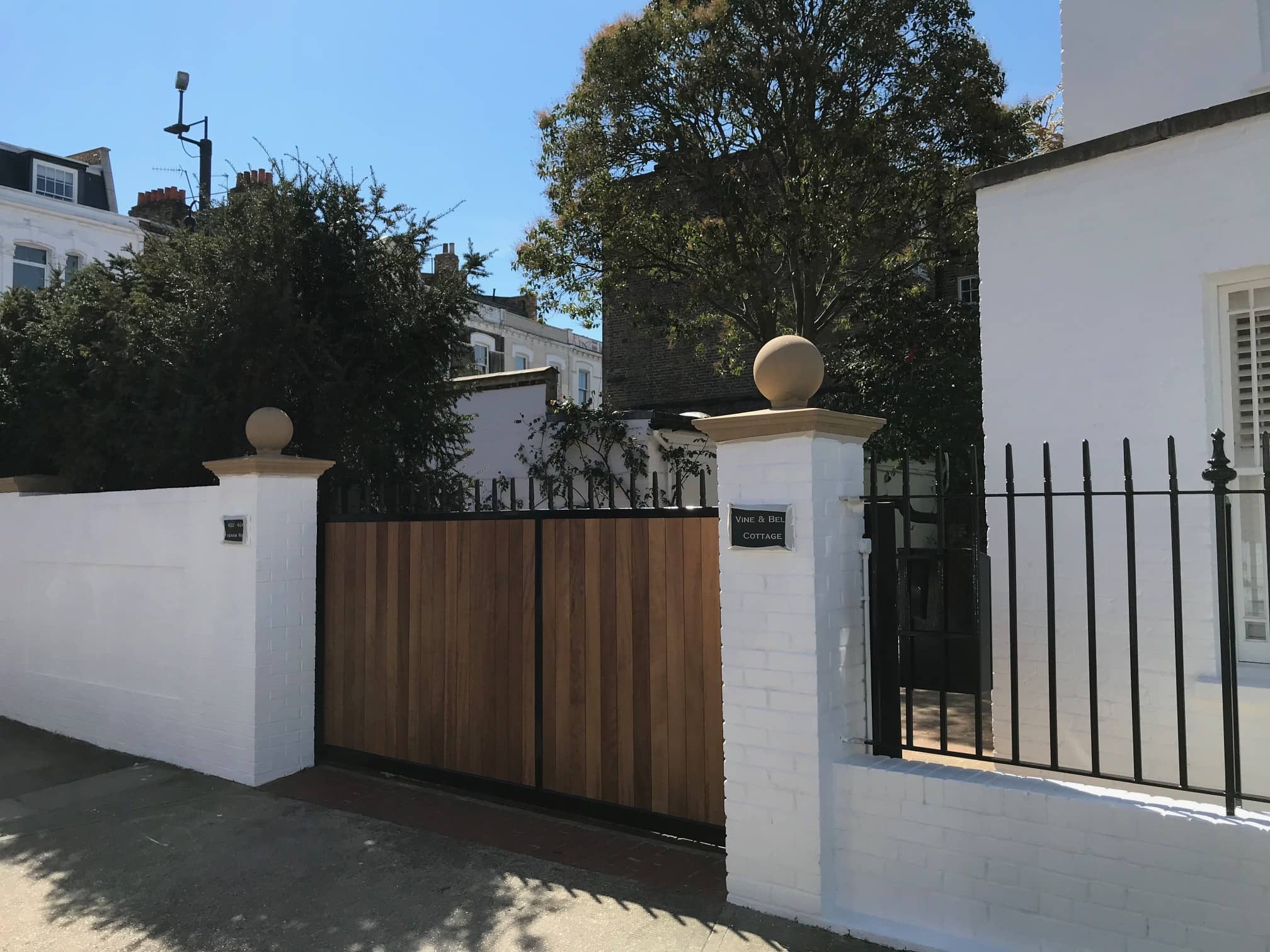 Save time
Even if you have the tools and the expertise to carry out the repairs yourself to a professional standard, do you have the time? In our busy lives, finding the time to dedicate yourself to an electric gate fix, particularly after a long week at work when you'd rather be relaxing, can be difficult. 
A gate specialist can take care of everything for you and you'll be able to rest assured knowing the job will be completed to the highest of standards – you won't have to lift a finger! Get back to spending your free time with friends and family, leaving the maintenance and repairs to the professionals. 
How often do you need electric gate maintenance or repairs?
How often you need a service for your gate will depend on how many cycles the gates perform – the number of times they open and close. However, generally speaking, low usage residential electric driveway gates should be serviced at least once or twice per year. Heavy usage commercial gates on the other hand may require a service up to four times per year. 
Prior to installation, your electric gate specialist should detail how often you'll require a service. They may even offer you this on a subscription basis to ensure your gates stay in good condition. What will be checked in this service? 
Check overall system

Force testing

Check alignment of hinges

Check gate for any structural issues on frame

Inspect the gate whilst opening/closing

Full safety inspection checking photocells are aligned, safety edges are fully operating and the gate stops and returns on impact

Inspect for any oil leaks

Lubricate all mechanical parts

Lubricate hinges and pins

Check gate automation settings: speed, slow down upon opening and/or closing

Check manual release in case of power failure

Inspect earth cables and any other visible cable within and around the motor

Check access keys and key fobs

Check intercom systems

Inspect general overall condition of the gate
However, if you notice an issue with your gates you may not be able to wait for a scheduled service. So, what should you be on the lookout for? There are several different indications that your gates need a repair, from the more obvious signs of wear such as rusting and unusual rattling to the lesser obvious such as stiffness.
Why choose WLS for your electric gate servicing? 
Are you in need of a gate specialist to service your security system? Whilst electric gates serve as a fantastic investment for any property, they do require regular maintenance and repairs to be addressed to ensure they operate correctly. 
Whilst it can seem like an avoidable expense, neglecting your electric gates could be far more costly in the long run. If you see one of the above signs or notice you are well overdue a service, it's important you choose a professional security company that has the expertise and experience to provide you with a high level of service. They'll be able to confidently identify any faults and offer a solution that ultimately will improve the lifespan of your automatic gate system.
WLS has been designing, testing and maintaining electric gates for over 25 years – we're the professionals you can trust and rely upon time and again. Are you looking to service your electric gates? Or require another security system servicing? Speak to us today at 020 8676 4300 or fill out a contact form, and we'll get back to you with more information about how we can assist.
WLS, creating safe space for you.
Want to learn more – we recommend;
The WLS Guarantee – Creating Safe Spaces
* First Time Fix or Solution Provided Every Time *
We strive to be the World's Leading Security Company, with an uncompromising focus on customers and the solutions we deliver. Our WLS team knows how important it is to create safe spaces you can trust, whether for your family home or business. 
With over 30 years of experience in the industry, our expert team have closely followed the latest trends and developments in security technology. From our first installation to where we are now, our customers have always been our focus – providing an effective and high-quality result consistently. We're proud to offer our unrivalled WLS guarantee to each of our customers.