Fire protection in historic buildings often poses a challenge for those occupying the space or trying to improve upon it. The main difference in construction is that they tend not to have the same level of safety engineering as more modern structures. 
As well as the general use of these properties for domestic and non-domestic purposes, a large proportion of heritage properties are dotted around the UK. These will have one or more areas open to the public and will see plenty of visitors each year. 
With this in mind, the safety aspects of these structures need to be as sound as possible – taking into account the materials used and age of the property. 
In contrast to modern buildings, fire protection in historic buildings was not necessarily considered from the outset of construction. The main concern was the appearance and function of each room. This is why they pose such a unique challenge. 
Even in this day and age, we want to preserve the look of these old structures and ensure we don't cause damage along the way that could compromise the safety even more. Because of this, WLS offer multiple services and bespoke products that suit each type and style of property while focusing on the highest level of fire protection. 
In this article, we are going to look at some more ways the approach to fire protection in historic buildings may differ from modern structures.
High Ceilings & Large Windows
The overall structure of rooms in older properties can be significantly different to what we're used to now. The floor plans tend to be a lot larger and the features of each area tend to be very ornate and offer a lot of natural light and air. 
High ceilings and large windows may make for an impressive aesthetic, but it also poses the risk of high airflow and a greater distance from the source of fires to the alarms and detectors themselves. 
As a result, it can take far more time for the occupants to be made aware of the danger before acting upon it. At WLS, we have top of the range equipment on offer to mitigate this, including VESDA systems.
VESDA stands for very early smoke detection apparatus and is used in special circumstances where early warnings are essential. 
As aspirating smoke systems, they not only detect smoke as you'd expect, but their function spans to the detection of hazardous and combustible gases. The benefit of this is that it gives you the ability to prevent a fire before even being aware of the risk. 
With large windows often causing concern due to the high airflow they provide, detecting the signs as early as possible will reduce the risk of spreading quickly and aggressively. 
Protecting The Appearance & Structure
While we understand the ornate and unique appearance of old properties makes for some brilliant tourist attractions and impressive homes – proper consideration still needs to be given to fire protection in historic buildings. 
Older properties may also have an issue with ample electrics and safe outputs. With this in mind, our wireless alarm systems offer a solution for when running cables is an issue. 
While conventional and addressable systems may need to be run throughout the building, the wireless options from WLS can be installed anywhere. Not being hardwired into the building gives you the flexibility to change the layout to suit the building's function or occupancy. 
Our range of wireless detectors and control panels will ensure full coverage is maintained across the property while protecting the appearance and internal structure and complying with relevant standards. 
You can even focus the detection on the most high-risk areas. This may mean installing more systems in areas with high occupancy or ones of particular importance to the history or function of the building.
Empty Voids
Fire protection in historic buildings can also pose serious issues where strange construction and large void spaces are concerned. Where the layout may have been altered over the years, walls and rooms can often be home to empty voids or cavities. 
The risk here is that a fire may go unnoticed for extended periods of time. Especially in a relatively unoccupied part of the property, it is crucial these areas are protected with quality systems. 
Surveys are often carried out to identify these areas, but it is then imperative you consider every option for monitoring the risks. 
Our fully programmable installations will be designed around the needs of your building to ensure every occupant is kept safe and the property itself is being completely monitored. This way you can act quickly to preserve the structure and evacuate the people that may be inside. 
Creating zones within the system allows you to be alerted to the exact area of a fire, direct emergency services or isolate the risk before it has time to spread. Even in hard to reach sections of the property – you'll be well aware early on. 
Expansive Space To Evacuate Quickly
As we mentioned above, the overall footprint of a historic building is often much larger than modern homes and offices. Whether these are open to the public or used for families or staff – the extra space makes it more difficult to evacuate quickly in the event of an emergency. 
Precautions must be taken to ensure everyone inside is aware of the exit routes and will be properly alerted to risk. As well as installing clear signage in public areas and making use of the fully addressable systems WLS provide, there are other options available that may increase safety in areas with long escape routes or complex footprints.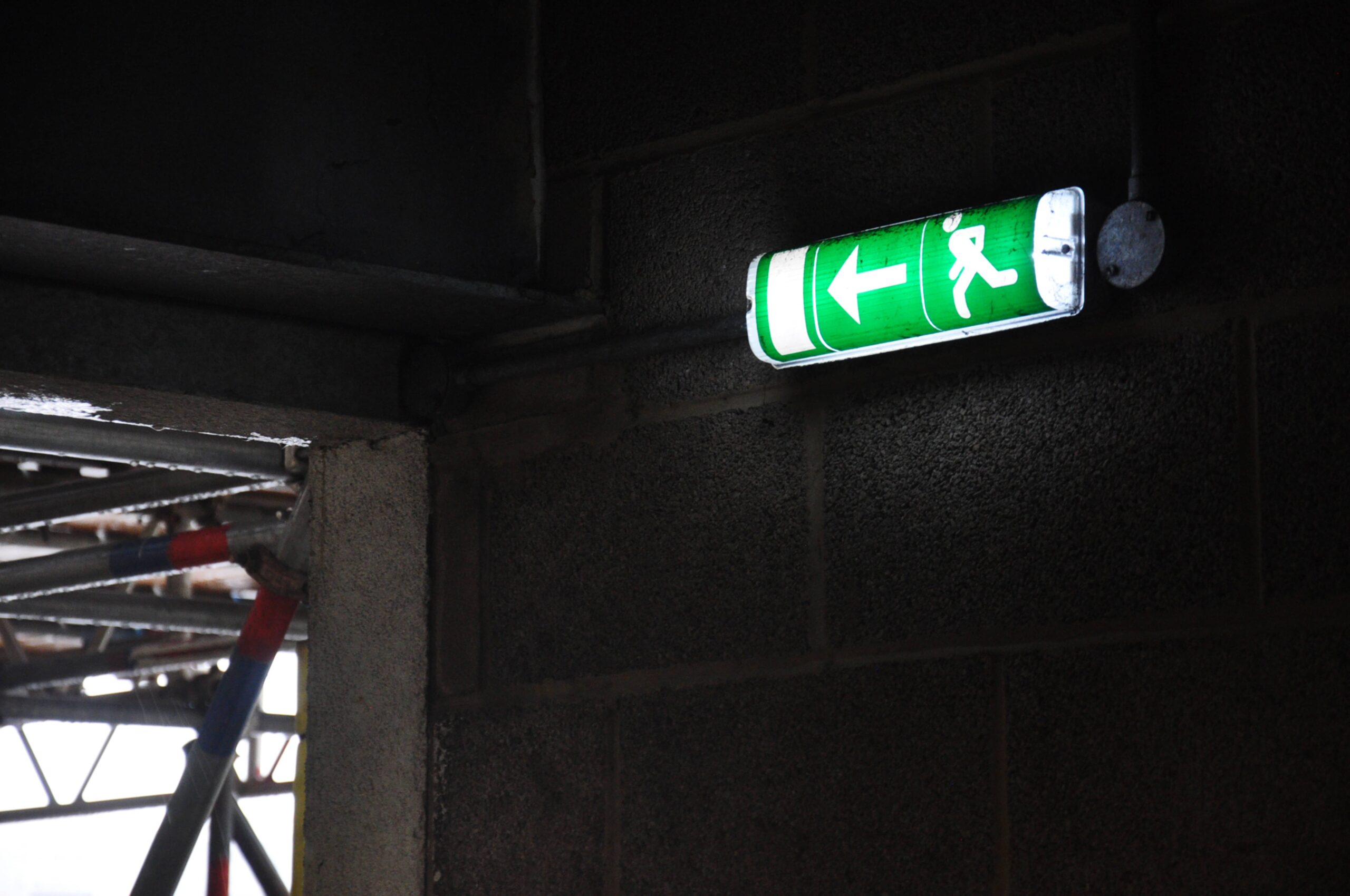 For example, voice alarm systems offer a different method of raising alarms and avoiding delayed reactions. They can provide verbal directions and proper instructions to ensure all occupants are aware of the danger and know how to respond. 
As well as this, occupants are 75% more likely to react efficiently to voice commands than a general fire alarm. Where a phased evacuation is required or particular instructions need to be given, these systems are often very popular. 
Fire Protection In Historic Buildings That Are Unoccupied 
Another important issue to address is times when the property of any size is left unoccupied and unattended. Whether this is someone's home or public property – the concerns we addressed above will still need to be monitored at all times. 
Without people around to respond to the fire or call emergency services, the structure could undergo significant damage. WLS understand this need for continuous monitoring and are proud to offer Redcare connection services to try and mitigate these risks. 
Used in combination with our central monitoring stations, it will ensure the fire brigade attend to every emergency. Around 68% of fires occur in unoccupied buildings. So, to minimise the fire risk we suggest taking every precaution and incorporating the top WLS products and services. 
Hiring extra night staff for public attractions or monitoring historic homes when you're not around can be costly and inefficient. To work around this, a central system will give you peace of mind and constant security in case of a fire. 
Protect Your Historic Building With WLS Experts
The difference between old and new property structures can impact the safety of your occupants. The same considerations may not have been made to ensure the risks are addressed and all the necessary precautions are in place. 
Thanks to the technology we provide, you can implement full coverage across your property and ensure each area is properly monitored day and night. Not only for full peace of mind but to protect the appearance and structural integrity of the building. 
Our products do not need to impact any of these factors and wireless alarms give you the opportunity to create bespoke areas with detectors that meet every requirement. 
If you'd like some more information about how you could implement these solutions or expand on what you already have in place, get in touch with our team today. 
Whether it be full security systems, fire safety alarms and CCTV to intruder alarms, we can install and maintain them for you. Our customers have always said it's our people that set us apart – we know how important it is to work with a company you can guarantee the right results from. 
The WLS Guarantee – Creating Safe Spaces
* First Time Fix or Solution Provided Every Time *
We strive to be the World's Leading Security Company, with an uncompromising focus on customers and the solutions we deliver. Our WLS team knows how important it is to create safe spaces you can trust, whether for your family home or business. 
With over 30 years of experience in the industry, our expert team have closely followed the latest trends and developments in security technology. From our first installation to where we are now, our customers have always been our focus – providing an effective and high-quality result consistently. We're proud to offer our unrivalled WLS guarantee to each of our customers.