Intruder alarms are essential to ensure the security of your home from any possible burglars or others who may cause harm or damage to your property. 
This is why WLS specialise in intruder alarm installation and maintenance. Our focus is on creating a safe space, whether it be for your personal or professional property. All intruder alarm systems should be serviced to ensure they are fully functional. Read on to find out more about why intruder alarms are necessary and how often you should service intruder alarms.
High-Quality Intruder Alarm Systems 
When we install intruder alarm systems, our technicians will make sure every component complies to the latest British standard. They are also approved to the exact standards of all leading insurance companies. WLS always makes sure to use the latest technology to design the most effective security solution bespoke to your individual needs. 
Intruder Alarm Installations 
The presence of an intruder alarm installation also greatly reduces security breaches. Our burglar alarm security systems seamlessly integrate with other devices to provide an ideal security solution for your premises. 
WLS is an NSI, gold approved intruder alarm installer, We also have more than 25 years of experience installing intruder alarm systems. We can install and maintain these systems almost anywhere from banks, schools, hospitals, commercial properties and private homes around London and surrounding areas. 
Intruder Alarm – Main Approaches 
Firstly, our GPRS intruder alarms once installed can transmit alarm signals through the mobile data network, using 2G, 3G or 4G technology. Additionally, for even more peace of mind, they are also linked up to regular phone lines. 
Intruder alarms or radio-based alarms can also be installed in instances where running cables is too challenging. This may often be the case for historic or listed buildings. These types of systems are not only practical but are also reliable and can help save space. 
We can also configure intruder alarms to work with proximity tokens often used with access control systems. This is useful as it makes disabling alarms much simpler for those who require frequent access. It also allows main alarm systems to remain active whilst people are granted entry to the premises.
Integrating Intruder Alarms With Security Networks
WLS always keeps a close eye on the wider security environment. We are experts at integrating intruder alarms with wider security systems. With our central monitoring system, you can link your intruder alarms and IP CCTV network so that the CCTV is automatically activated and relayed to our operators when alarms are activated.
In addition to linking with CCTV systems, smoke detectors and fire alarms can be added to a system to provide a fully integrated security network and ensure your building is benefitting from the complete WLS package.
Intruder Alarm Maintenance – How often should we service intruder alarms? 
All modern intruder alarm systems that we install are done so to the highest engineering standards. This helps to reduce false alarm rates to a minimum. Furthermore, well-maintained intruder alarm systems improve police response, with fewer false alarm call-outs. 
Our intruder alarm systems have a proven track record for minimising false alarms which can be costly in the long run. We also continue to look for further ways to innovate our services and combine them with high-tech products.
We install all our solutions to the highest possible standards. Any installation with WLS comes with a 12-month part and labour guarantee. Additionally, we offer a free service 6 months after installation to ensure all is in working order. 
In most instances, intruder alarm systems should be serviced annually. However, if your systems are synced up to a police-approved monitoring system then you may wish to consider having them serviced every 6 months. 
Emergency Call-Outs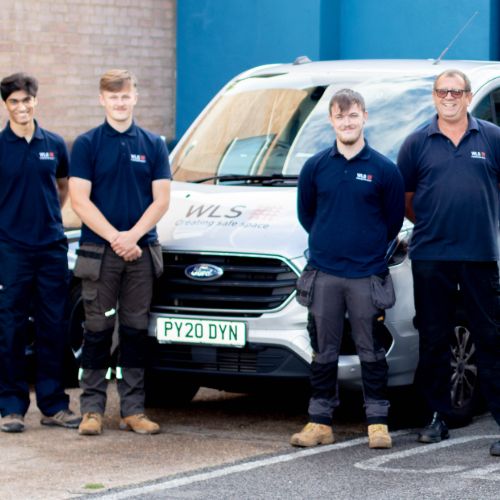 Should you need immediate assistance and maintenance with your security systems, we offer emergency call-out services. It is always essential to have a security specialist you can trust who can help. Without this, problems can quickly escalate as you search for someone to help. WLS can help find a solution to 90% of all problems first-time. Doing so, helps to provide peace of mind and ensure you that your home is fully protected.
When one of our security experts arrive on-site for emergency call-outs, they will first investigate the problem then suggest possible solutions. Once these are agreed upon with you, work will be carried out on-site. Alternatively, we can arrange for a follow-up appointment as soon as possible. 
In addition to finding and fixing any faults, we also perform any necessary checks to ensure your systems are in working order. This is key, even if you don't suspect an issue because risks can sometimes go unnoticed for long periods. Our emergency services ensure quick, efficient and cost-effective solutions when needed. 
Take a look at our rates to find out more.
Why Regular Maintenance Is Essential
Should your home or business depend on the reliable function of your security systems, we highly suggest that you invest in comprehensive maintenance cover. If you're looking to service intruder alarms, regular maintenance can save you from further problems down the road that may be even more significant or urgent if left unattended. 
Crime prevention 
Most crimes are committed opportunistically. If a criminal spots an obvious fault in your security system, they may break an entry as no alarm is raised. In the absence of regular maintenance, you will not be aware of any major problems. Emergency call-outs can ensure that problems are quickly resolved once detected
Liability 
By not regularly booking services for your security systems, you may be unknowingly breaking the terms of your insurance agreement. As a result, you could become liable and have to pay out large sums of money that would have usually been covered by your insurance company. 
Avoid leaving the safety of your property to chance. Should you notice something is wrong, get in contact with us to arrange an appointment.
Cost
Due to the urgency of emergency call-outs, they often cost more than a regular service. Emergency call-outs provide a definite, quick solution as a problem with the system has already been established. On the other hand, regular maintenance call outs, ensure all is functioning properly and any small faults are identified ahead of time.
This minimises the risk of needing last-minute call-outs and increases the overall lifespan of your security system. Maintenance works are completed on an as and when basis and your engineer will be able to provide advice on how to optimise performance.
Furthermore, regular checks can save you hundreds in repairs. Catching it before it's too late will mean simple fixes rather than replacements. 
What Do Our Service Contracts Include? 
By choosing us, WLS can create a bespoke service package to suit your premises. As London's top security company, we provide a high-quality service that can be relied on every time, minimising the risk of major faults. 
What is included in our regular maintenance contracts? 
Firstly, you will receive automated notifications, alerting you that a system service is soon to be due. This is beneficial as it will help you keep on top of service call-outs and book appointments to suit your schedule ahead of time. 
You will also receive planned preventative maintenance visits to make sure your systems work properly and to ensure you get the most out of your installation. 
We always provide a proactive approach to reduce the downtime of a faulty system as we know how costly this can be. 
Also within our regular servicing, your systems will operate using the most up-to-date technology available on the market. Furthermore, if a suitable new option comes to the forefront of the security industry, you'll be the first to know. 
With our service contracts, you will be able to avoid being caught out as you will comply with insurance council requirements. 
Additionally, with our dedicated support contracts, you will be given access to our out of hours support line. Doing so will allow you to receive 24-hours assistance whenever it is needed. You will also be prioritised for our reactive service when urgent issues arise. 
Our regular maintenance packages are both cost and time-efficient. They allow you to have full trust in the ability of your systems. After all, you don't want to leave things to chance in the case of an emergency. You will receive peace of mind knowing that your security isn't compromised and opening you up to possible threats. 
More on WLS
It can be easy to overlook the upkeep of your security systems, letting this fall to the bottom of your to-do pile. However, you should service intruder alarms and schedule these regular appointments to ensure your property is not left vulnerable for what would be an otherwise avoidable situation. Whether it's a fire alarm, CCTV camera or electric gate, our team can help.
Experienced at handling both urgent situations and regular maintenance, whatever your requirement our team can deliver a first-class service. Our customers have always said it's our people that set us apart – we know how important it is to work with a company you can guarantee the right results from.
Contact our team for further details on how we can help you with remote monitoring services and first-class alarm systems on 0208 676 4300.
WLS, creating a safe space for you.
The WLS Guarantee – Creating Safe Spaces
* First Time Fix or Solution Provided Every Time *
We strive to be the World's Leading Security Company, with an uncompromising focus on customers and the solutions we deliver. Our WLS team knows how important it is to create safe spaces you can trust, whether for your family home or business. 
With over 30 years of experience in the industry, our expert team have closely followed the latest trends and developments in security technology. From our first installation to where we are now, our customers have always been our focus – providing an effective and high-quality result consistently. We're proud to offer our unrivalled WLS guarantee to each of our customers.