What Is The Best Wood For Gates?
Looking for a traditional style? We have the timber options for you, but which is the best?
Why Are Wooden Gates Popular?
We aren't biased when it comes to the best wood for gates, but we understand why people love them so much. Firstly, they offer a much warmer appearance than metal. this can make the whole place seem a little more welcoming – which is perfect for a family home. But when it comes to which is best, there are a lot of options; all of which will appeal to different people and be a better fit in certain situations. We are going to look at different choices you could make, and the advantages of each one.
Sustainable Sources
No matter what type of wood takes your fancy, it is important we are getting it from sustainable sources. The last thing we want is to be contributing to the destruction. That is why we work with managed forests to ensure all of our timber is from sustainable sources. Then you can be confident that when you shop with WLS, you're getting the best products – no matter which kind you choose. Our team would be happy to tell you more and answer any questions you have about the sourcing of our wood.
Contact The Professionals For A Free, No Obligation Quote
We offer free quotes and expert advice so you can rest assured you're getting the most for your money. Don't hesitate to call and ask questions or find out more about our range of products. We will answer your questions and ensure you're completely satisfied and comfortable with what you are purchasing. There will not be any stone left unturned. Our team are on hand to help and discuss your best solution at 020 8676 4300.
Why Electric Gate Maintenance Is Important
Whether you're choosing from the best wood for gates or metal ones, it is vital you maintain them to ensure the daily running and safety elements are functioning properly. If you don't maintain your electric gates, you could see some components fail and the whole mechanism begin to stiffen up causing slow opening or complete failure. We know how important it is for your gates to run day to day as smoothly as possible. That's why you had them installed in the first place! But there are things that differ from standard manual gates which means they will need more regular maintenance.
Redwood
Redwood is a fairly hard and sturdy choice for gates. Its reddish-brown colour makes for a really warm and welcoming style that can complement a lot of existing features in your home. It does have to be treated regularly to maintain its strength and colour, but adding water-repellent every year or two should keep it looking great. It is also prone to insect destruction but can be treated by expert manufacturers to ward them off and also delay any weathering you may endure. This is just one of many kinds of wood you can choose from.
Red Cedar
Unlike Redwood, Red Cedar is unusually clever at repelling insects, meaning you don't have to worry so much when it comes to rot and damage. Because of this, it is quite safe from the risk of warping or shrinking that may alter the operation or appearance of your wooden gates. While you can choose to treat this wood, it is naturally resistant to most types of damage and so it is not required. It's also known that untreated Red Cedar turns a pleasant silver colour after natural weathering.
Soft or Hardwood?
Softwood is more economical and gives you a more 'knotty' and natural texture. If you prefer a real and uneven look, then softwood certainly supplies that. However, as the name suggests, it isn't quite as durable as its counterpart. So they may need more treating and looking after to get a long life.
Hardwood is stronger and will last you longer without as much interference. They offer a more even and all-one-colour type of look that many people prefer. You could use staining on softwood, but it is really tricky to get the same appearance as hardwood.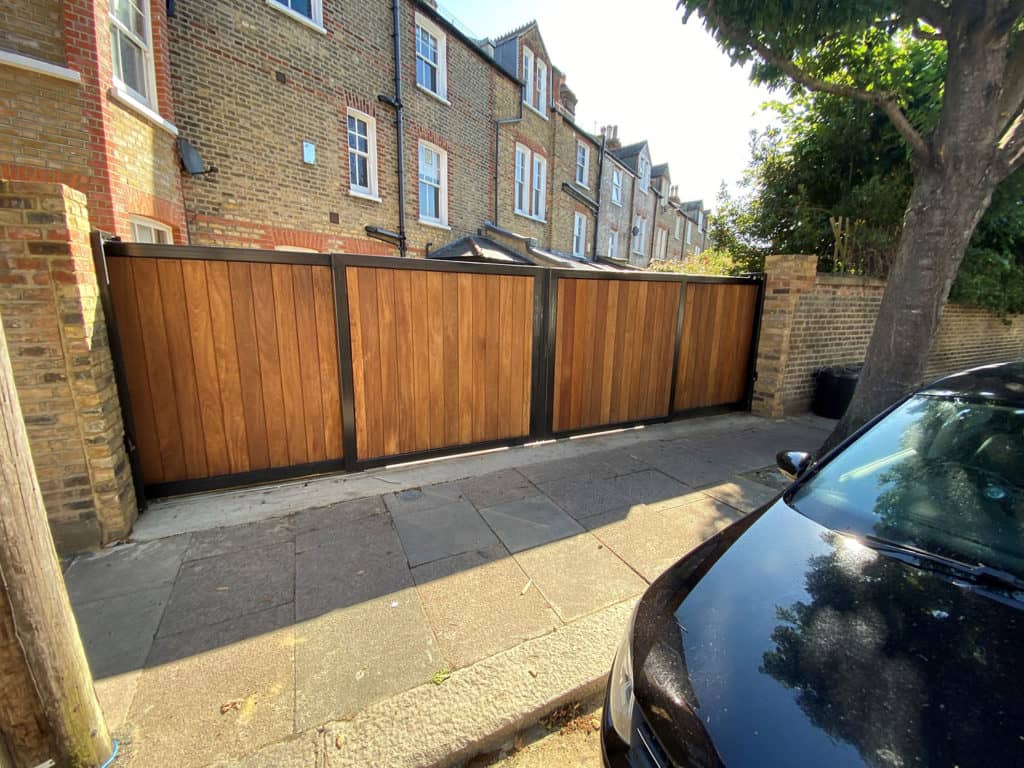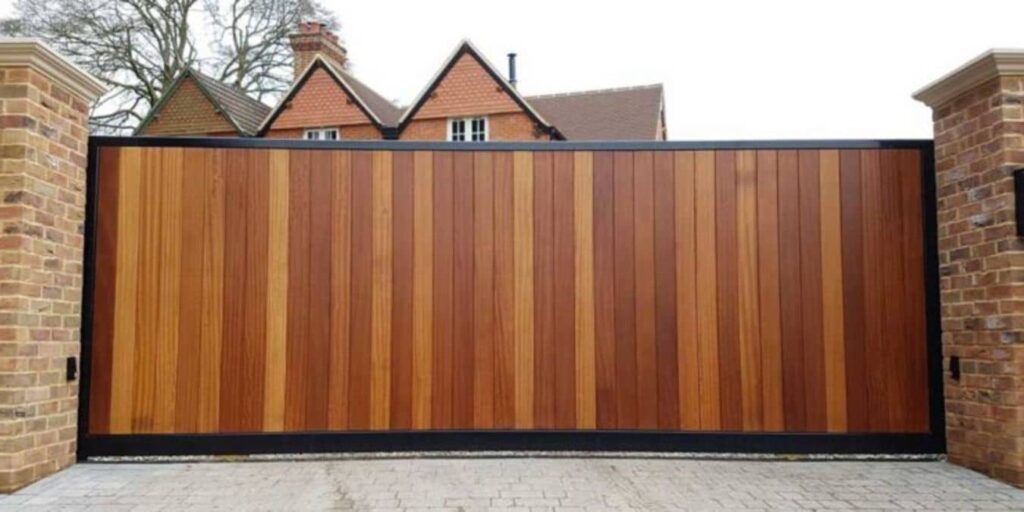 Talk To Us About A Security Installation Or Automatic Gates London
WLS is one of the leading security gate suppliers in London and the South East. We are FAAC approved with a full range of security industry accreditations. We take a flexible, agile approach to understand your environment and your needs, regardless of the size or scope of the project.
We employ the very best engineers and technicians, all of whom bring their own unique skills and experience to the business. Whatever your security system requirements, you can expect expert advice and cutting-edge installations. For a free site survey and quotation, call us on 020 8676 4300 or fill out our contact form.
The WLS Guarantee – Creating Safe Spaces
* First Time Fix or Solution Provided Every Time *
We strive to be the World's Leading Security Company, with an uncompromising focus on customers and the solutions we deliver. Our WLS team knows how important it is to create safe spaces you can trust, whether for your family home or business. 
With over 30 years of experience in the industry, our expert team have closely followed the latest trends and developments in security technology. From our first installation to where we are now, our customers have always been our focus – providing an effective and high-quality result consistently. We're proud to offer our unrivalled WLS guarantee to each of our customers. 
Our Work
admin
2021-10-18T07:54:25+00:00
Fire alarm maintenance at New Covent Garden Market, Nine Elms, SW8
admin
2021-09-21T02:10:08+00:00
CCTV Security System Installation At Vauxhall City Farm
admin
2021-09-21T01:29:15+00:00
Electronic Security Systems With Access Control At The Hudson, London
admin
2021-10-18T07:54:25+00:00
Fire alarm maintenance at New Covent Garden Market, Nine Elms, SW8

We are a Primary school in the Wembley area, we had new automated and pedestrian gates installed. I must say that I have been most impressed from start to finish, the whole process has been a positive experience. The professionalism, helpfulness and willingness to go above and beyond what was agreed to ensure everything went smoothly. I can't praise these guys enough they made the whole process seem really easy. I would without hesitation recommend these guys. You will be good hands without question. Keep up the good work, it doesn't go unnoticed.