A twenty-first century workplace protected by latest generation electronic security solutions
WLS has been able to demonstrate the full extent of its product knowledge and technical expertise by providing The Hudson office building with a comprehensive range of electronic security and safety systems which include Access Control, CCTV, fire and intruder detection and Disabled Refuge Alarm (DDA), as well as intercom and an Integrated Reception System (IRS).
With approximately 23,000 Sq. ft. of office accommodation spread over 5 floors, and located approximately one minute's walk from Vauxhall Station, The Hudson is a decommissioned government building which has been transformed into a twenty-first century workplace.
The security systems installed by WLS at The Hudson include the following solutions:
A full L2 fire alarm system incorporating Apollo fire detection sensors integrated with an Advanced MXPro5 control panel.
Baldwin Boxall Disabled Refuge Alarm (DDA).
BPT intercom which allows visitors to communicate with reception personnel to gain entry to the building.
Dahua CCTV which is helping protect the building and its tenants from anti-social behaviour and theft!
Paxton access control which, in addition to restricting access to private areas, is also able to provide real-time reports for fire and security purposes as to who is inside the building.
Texecom intruder detection to protect the building out of office hours.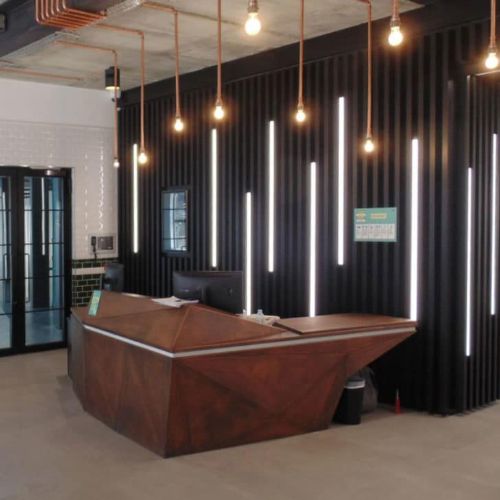 Integration with Access Control
WLS has implemented various integrations to enable the client to achieve maximum benefit from the respective systems' functionality. The fire alarm system, for example, has been integrated with the access control system and this allows all doors to be automatically unlocked in the event of fire to ensure no one is trapped inside the building.  To avoid nuisance alarms, the fire system has also been integrated with the DDA system, so that the latter will only be activated when there is a fire alarm event.
WLS has also integrated the fire alarm system with various building services such as the lifts, air conditioning, toilet vents and the mechanical control panels, to help facilitate an extensive cause and effect strategy.
Two-way interaction between the access control and intercom systems provides smooth, seamless use of the doors no matter which of the two systems is used to gain entry, whilst thanks to the integration of the access control and intruder alarm systems, unauthorised users are prevented from entering the building unless the intruder alarm is unset.
Our Success With Sapphire Mechanical UK Ltd
The contract to implement the turnkey electronic security project was awarded to WLS by electrical and mechanical specialists
Sapphire Mechanical UK Ltd:
"Having previously worked with WLS on 14 other projects, we were pleased they were able to submit a competitive proposal for The Hudson and that we were able to once again work in partnership to provide an integrated solution which meets the client's demanding requirements."

"The rapport we have established with the WLS pre-sales and technical teams has helped ensure there has been good communication throughout every stage of the project and as a result, it was completed on time and without any snags."

"A twenty-first century workplace should have electronic security solutions which are robust, reliable and easy to use, whilst collectively creating a totally safe and secure environment for visitors and those who work within it. I am pleased to report that in this respect WLS has exceeded the client's expectations."

Nick Power | Commercial Director of  Sapphire Mechanical