Fire alarm management technology has been relatively slow to evolve compared to the rapidly advancing smart devices we find in the home and workplace today. Understandably, many manufacturers focus their efforts on developing products with a high return on investment rather than fire alarm systems. But now, innovative companies are exploring new methods of approaching the management of fire threats, one, in particular, being Nimbus' latest offering. 
In today's WLS article, we'll be detailing this new way of monitoring your fire alarm and how it can benefit you. Fire safety is essential, whether you are in a personal or business setting and having the most effective system in place is crucial. So, understanding what is available will allow you to make the right decision. At WLS, we've been installing and maintaining the highest quality of fire alarm systems for over 30 years so we've got the expertise and experience to guarantee you a safe space. 
What is the Nimbus Fire?
Nimbus is an innovative fire alarm management system that provides you with the ability to control and monitor from wherever you are in the world. The alarm system will communicate to a cloud-hosted database. All that is required is an internet connection and a mobile phone or desktop computer to access this database. 
It's remarkably easy to install, configure and operate; in fact, the whole installation process typically takes less than 30 minutes for our expert team of engineers, leaving you to get back to the rest of your day. If your requirements do change, the system can be easily expanded to reflect changes to a building's network of alarms. This saves you considerable time and expenses as the system can be easily updated. Plus, the Nimbus is compatible with most analogue addressable or "intelligent" fire alarm control panels and supports both stand-alone and networked fire alarms. 
Addressable systems are more expensive than their counter conventional two or four-wire systems, providing further information, increased flexibility, intelligence, speed of identification and scope of control. In addressable systems, different devices are wired in one or more single loops around the premises, requiring less cabling than conventional systems, with each detector or call point having its own unique address. 
Conventional fire alarm management systems
Before we delve into the future of the management systems, we first need to understand the more conventional type of systems. Of course, this is no longer the only type of fire alarm system on the market today, nor has it been for a long time. But, you may not be aware of the difference if you are not familiar with the fire industry. 
So, when we talk about a conventional fire alarm system, we are referring to an alarm that manages to identify the manual call point or the activated detector through zone LEDs. You'll notice that should a fire zone be activated, a red LED will light up. 
In your control panel, you can see all the zones included in your system and each will have the possibility of a red LED displayed. Therefore, every time you intend to activate or deactivate a zone, you must verify where each one is – the detector will be activated if this red LED is on. Seek and search can take far longer as a result, especially if your system has a large number of devices. 
Typically then, conventional systems are considered rather basic in terms of fire alarm systems but can be useful for some properties. However, they fail to offer the innovative advantages that addressable fire alarm systems can provide and may not be of any benefit to the workplace or larger homes. 
Moving forward, however, more and more of us are opting for cloud-based systems that can be monitored from anywhere in the world. It's the future of fire safety and has been a long-awaited development!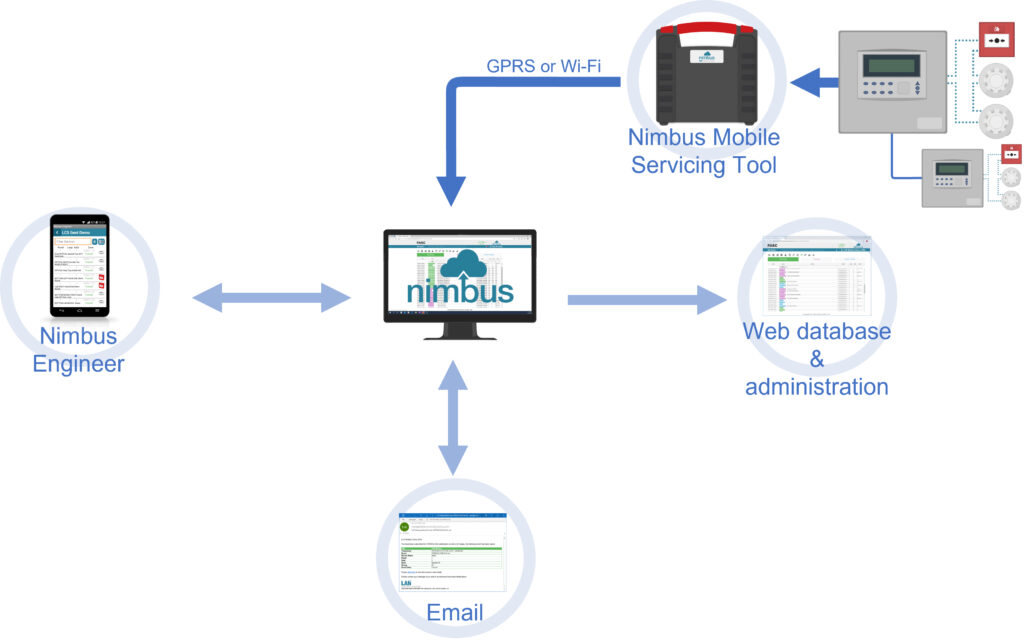 The benefits of the Nimbus Fire
The Nimbus Fire can work hand-in-hand with your addressable fire alarm system to improve efficiency and eliminate false activation. As a cloud-based system, it can certainly be considered the future of fire alarm management. But, what exactly are the benefits of the system? 
Improve efficiency with automated service reports
No one likes unnecessary paperwork, and certainly, with a fire alarm system, you can be left trying to decipher pages of information regarding reports and services. With so much paperwork to go through, the door is left wide open for inaccuracies to be recorded and major delays in the completion of these reports. 
The Nimbus Fire simplifies this process considerably. A report can be generated on service completion, outlining evidence and details of each service, device information and tasks performed by the engineer. Furthermore, this will include any engineer notes that you can look back on should you need to. 
Centralise management
As we've already mentioned, the Nimbus Fire is compatible with the majority of UK analogue addressable fire alarm control panels. So, whatever your current network of fire alarms, it's likely this device could be utilised to streamline the system. Once installed, you'll be able to quickly see the system status and manage the data in a simple to use, common format. 
In fact, you'll be able to instantly access historical and real-time data – including service history, panel and device, enabling you to successfully monitor the property in question and avoid any avoidable activations or errors. All you need to do is search using one of the criteria available; Event, Date, Time, Site, Panel, Loop or Description. 
Having immediate access to these records can ensure your fire safety is streamlined – it can be difficult keeping track of all these service reports, but when all in one place you can feel confident in the ability of your system. 
Fire alarm management can provide you with peace of mind. Certainly, it's important to not underestimate, particularly in large-scale properties, the need for regular services and a system that can be effectively monitored. 
Reduce false activations
Not only can the Nimbus Fire store records, but it can also reduce false activations with the Nimbus Confirmed Fire event. The system can identify and send accurate alerts when a confirmed fire is detected, this typically occurs when an event or activation occurs in quick succession in a defined zone. 
Engineers can also feedback on fire events to a centralised location so that this can be easily accessed when required to keep track of any regular alerts. If a false alarm is detected, it can be handled quickly before it becomes a regular issue. 
Mobile phone app compatibility
With major developments in mobile phone applications in recent years, it makes sense that the Nimbus Fire allows for service and test data to be centrally accessed from this app. These records can be seen from anywhere in the world – all you need is an internet connection. So, what apps are available? 
Nimbus Engineer App: Test records are logged with the engineer's comments, images and bar codes, optimising recertification and any upgrade work. 

Nimbus Weekly Test App: Notifies a user of pending 'fire alarm weekly tests' with specific instructions of which Manual Call Points should be tested.

Nimbus Notify: Delivers fire alarm event notifications. The user can feedback on the cause of the event, ideal for recording false or unwanted alarms. 
Having the apps provides you with full peace of mind, as you can have access to live reports and ensure your fire safety is up to date and functioning as it should. 
BS5839 standards
To comply with BS5839 standards, you need to have records of regular testing and servicing, highlighting that the fire alarm system is in proper working order. Of course, above complying with legislation, you should also be conducting regular inspections to ensure those within the property feel confident that a fire event would be detected successfully. 
Nimbus Fire has unequivocal proof that service testing and weekly inspections have been undertaken to BS5839 standards through automatic, non-editable digital data collection. These records can be used in audits and management reports to highlight a property is meeting strict British standards, proactively taking measures to keep up to date in the latest fire safety developments. 
WLS and Nimbus Fire: Our dedication to the future of fire alarm management
At WLS, we are committed to staying ahead of the competition and ensuring we are up to date with the very latest advancements in the industry. Working closely with manufacturers, we've built up a reputation over the last 30 years as highly trusted installation experts, working with only the very best technology for the leading suppliers. 
Whether it be an installation or service call-out, we can provide you with an unrivalled experience time and again. Our customer service and dedication are what sets us apart, committed to providing you with fantastic results. Contact our team for further details on how we can help you move into the future of fire alarm management systems on 0208 676 4300.
WLS, creating safe space for you. Interested in Access Control Systems – visit our information page today.
Want to learn more – we recommend;
The WLS Guarantee – Creating Safe Spaces
* First Time Fix or Solution Provided Every Time *
We strive to be the World's Leading Security Company, with an uncompromising focus on customers and the solutions we deliver. Our WLS team knows how important it is to create safe spaces you can trust, whether for your family home or business. 
With over 30 years of experience in the industry, our expert team have closely followed the latest trends and developments in security technology. From our first installation to where we are now, our customers have always been our focus – providing an effective and high-quality result consistently. We're proud to offer our unrivalled WLS guarantee to each of our customers.