Automatic Electric Gates Servicing & Repairs in London
Is your electric/automatic gate system not working as it should? WLS tests, maintains and services electric gates – we'll make sure your gates are working properly and are HSE compliant.
Automatic Electric Gates
Where vehicular and pedestrian access needs to be controlled, automatic electric gates are an essential component of an integrated security and access control system. WLS provides a complete electric gates servicing, maintenance and repair in London and the South East.
Full Range Of Electric Gate Automation Systems
WLS has been manufacturing and installing swing gates and sliding security gates in London and South East England for more than 25 years. We can provide steel, aluminium and wooden gates and use innovative, high quality gate automation technology to design and install the very best security systems. We are Gate Safe approved and have our own dedicated security gate automation and fabrication workshop.
The WLS Guarantee – Creating Safe Spaces
* First Time Fix or Solution Provided Every Time *
We strive to be the World's Leading Security Company, with an uncompromising focus on customers and the solutions we deliver. Our WLS team knows how important it is to create safe spaces you can trust, whether for your family home or business. 
With over 30 years of experience in the industry, our expert team have closely followed the latest trends and developments in security technology. From our first installation to where we are now, our customers have always been our focus – providing an effective and high-quality result consistently. We're proud to offer our unrivalled WLS guarantee to each of our customers. 
Steel Gates
As well as providing security and durability, steel gates are economical. Steel is the material of choice for most gate manufacturers and gate installations as its strength allows more complex and delicate designs. WLS manufactures, installs and automates quality galvanised steel gates with a black powder-coating. This durable protection can last up to 50 years.
Wooden Gates
Traditional wooden gates add elegance & security. A closed face timber gate also offers more privacy. The wood can be selected from sustainable sources and wooden gates improve aesthetically with age, becoming more in tune with the natural environment. If treated correctly, quality wooden gates can also last much longer than both steel and aluminium gates. We can create, install and automate custom wooden gates to your specification.
Aluminium Gates
For those on a budget, aluminium gates are a great alternative. Being lightweight, sturdy and low maintenance, aluminium gates cause less wear and tear to the gate automation system. WLS use a specialist workshop to tailor-make the best quality aluminium electric gates in a number of colours and styles as required.
Tracked Sliding Gates
Swing gates are the most popular style gate we install. They are more aesthetically pleasing and less imposing than sliding gates. Swing gates add style and sophistication to a property as well as safety and security. WLS can design, fabricate, install and automate swing gates to your exact specifications in steel, aluminium or wood.
Security Fencing With Electric Gates
Installing security fencing ensures that your property is fully protected against unwanted and unauthorised intrusion. We can install robust fencing to integrate with your automatic electric gates, providing complete perimeter security. There are a huge range of options available depending on the security level required.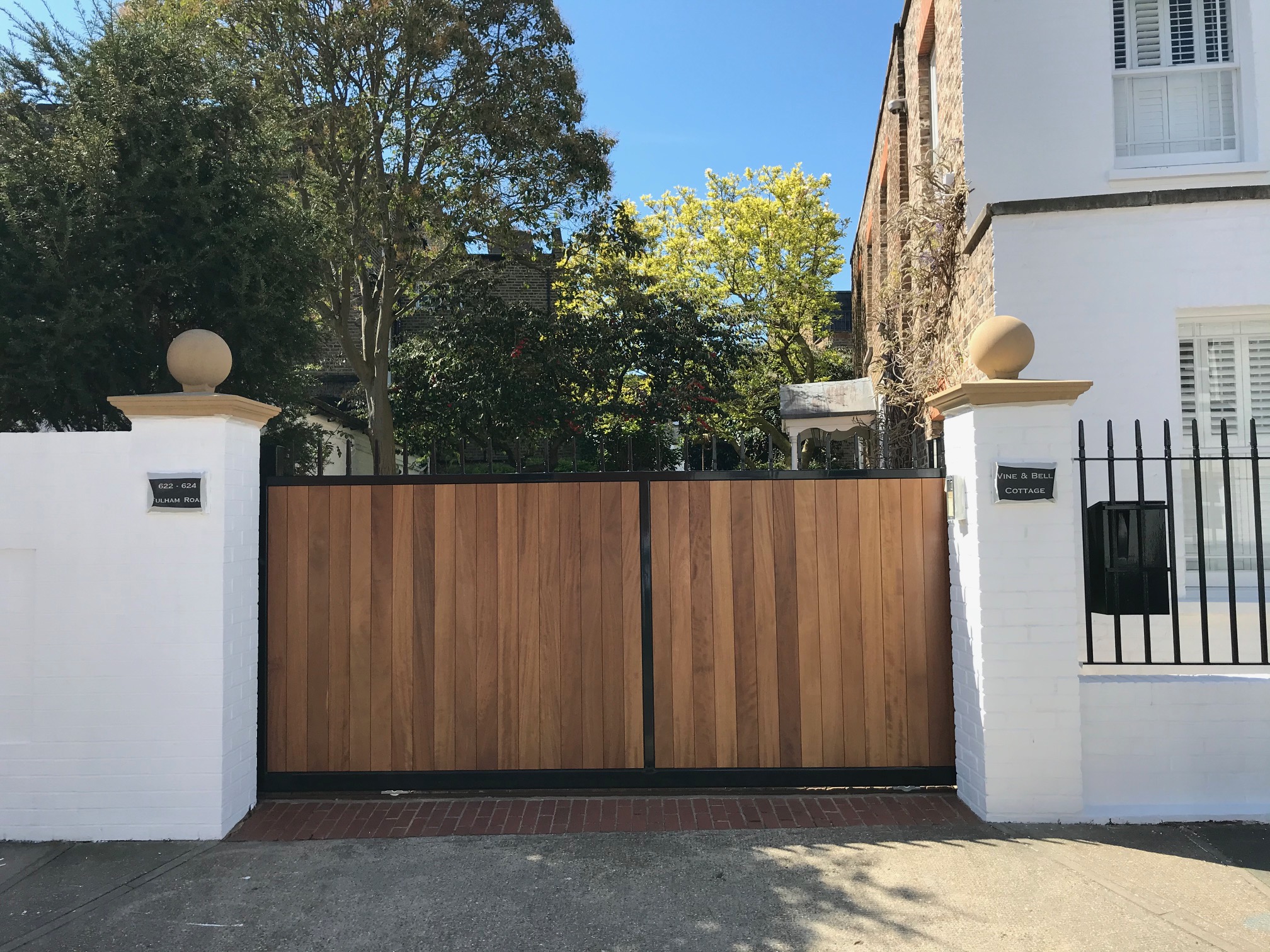 Barriers and Bollards
WLS install and service a variety of traffic barriers and electric bollards from leading manufacturers including BFT, FAAC and NICE.
Traffic barriers will typically be used to control access to car parks and can be controlled using fob transmitters and intercoms.
Electric bollards can be used to secure parking from everything for a driveway to a private house to government buildings requiring anti-terrorism security and again can be controlled using fobs, intercoms or ANPR cameras.
Call our team on 0208 676 4300 for an initial consultation and to arrange a free site survey.
Free Site Survey
Call our team on 0208 676 4300 for an initial consultation and to arrange a free site survey.
WLS are fully equipped to service and repair most types or barriers and bollards so if you have an existing installation in need of some TLC please get in touch with our service co-ordination team.
Talk To Us About A Security Gate Installation Or Automated Gate Repair
WLS is one of the leading security gate suppliers in London and the South East. We are FAAC approved with a full range of security industry accreditations. For a free site survey and quotation, call us on 020 8676 4300 or fill out our contact form.
Our Work
admin
2021-10-18T07:54:25+00:00
Fire alarm maintenance at New Covent Garden Market, Nine Elms, SW8
admin
2021-09-21T02:10:08+00:00
CCTV Security System Installation At Vauxhall City Farm
admin
2021-09-21T01:29:15+00:00
Electronic Security Systems With Access Control At The Hudson, London
admin
2021-10-18T07:54:25+00:00
Fire alarm maintenance at New Covent Garden Market, Nine Elms, SW8