You've had a fire system installed in a building, perhaps a factory, business premises or even a home, and it is ready to begin effectively protecting you and the property itself. This early warning system will enable safe and timely evacuation, and will significantly decrease the damage caused should a fire break out. Your fire alarm system is an essential part of your overall safety and you need to be able to confidently trust in this should an event arise.
It's easy to forget about the alarm once it's been installed and assume it will continue functioning properly in the event of a fire. However, maintenance is crucial to ensure the detection system is in good working order and adheres to British Standard regulations. Furthermore, a properly maintained fire alarm will not only keep the occupants and property safe but can also significantly reduce the number of false alarms that may occur in the system. That's why you must utilise fire protection servicing at least twice a year, if not quarterly.
In today's WLS article, we'll be detailing exactly what a fire alarm service engineer will do so you understand what to expect on their next visit. You can then rest assured that you are receiving a fully compliant service that you can trust and will know how to extend the lifespan of your system too.
WLS have been installing and maintaining fire alarms for over 30 years so we've got the expertise and experience to guarantee you a safe space.
The legal requirements of fire protection servicing
In regards to fire safety, the Regulatory Reform (Fire Safety) Order 2005 (RRO) is the main legislation that covers all aspects including proper installation, maintenance, and testing.
Previously, fire safety in the UK was covered by multiple laws including the Fire Precautions Act and Fire Precautions (Workplace) Regulations. However, it was later decided to simplify this legislation, giving way to the RRO. This works as a guideline for rescue authorities in addition to assessing any safety negligence.
Expanding on the RRO, the British Standard: BS 5839 details that you must have your premises, facilities and equipment regularly maintained by a fire alarm service engineer; they suggest at least twice a year. This engineer must have a strong technical knowledge of both alarms (types, models etc.) and the legislation. When choosing a security company to service your system, you should research their certificates to ensure they are competent and will carry out the maintenance successfully.
When should an alarm system receive a service?
The efficiency of an alarm system is not just a legal matter, it could also be the difference between life and death, which is why it is so important this is successfully maintained. There are two different types of inspection that must be carried out, those made by the user (the individual responsible for the system) and those made by a fire alarm service engineer.
Weekly check by the user
Testing the alarm weekly ensures the device and all components are working effectively, that there is no issue with the signals being received by the control panel, and everyone on the premises can hear the alarm. Usually, one manual call point will be tested each week on a rotating basis; once all have been tested, the cycle will start again. Whilst weekly testing is typically performed by the user, our WLS engineers can do so if required.
Ideally, this test will be conducted on the same day each week to ensure all occupants are aware of the procedure, ultimately ensuring they can differentiate between a test and an actual alarm. If a fault is found, this can be logged and immediately rectified.
Bi-annual detailed inspection from a fire alarm service engineer
The BS 5839 states that all the detectors, call points, panels, and circuits must be tested every six months by an engineer with specialist knowledge of fire alarm systems and smoke detectors. However, this is not set in stone and may vary depending on the size and complexity of the installed system. This will usually be outlined during the fire risk assessment of your premises. Our team at WLS suggest for large or high-risk properties, fire protection servicing be carried out every three months rather than every six.
It's important to note that every smoke detector and call point must be checked once a year, so if we service bi-annually 50% of devices should be checked on each visit, and if four then 25% should be checked each visit.
During this bi-annual testing and maintenance, the engineer will follow a checklist and inspect your logbook for all reported incidents, conduct a visual inspection for any obvious signs of wear, and inspect all the devices and components thoroughly.
Of course, if you feel as though your system is showing signs of damage or deterioration, you shouldn't wait for this servicing. Having a professional fire alarm service engineer look at the alarm ASAP can reassure you, and ensure any issues are fixed before the overall system is affected.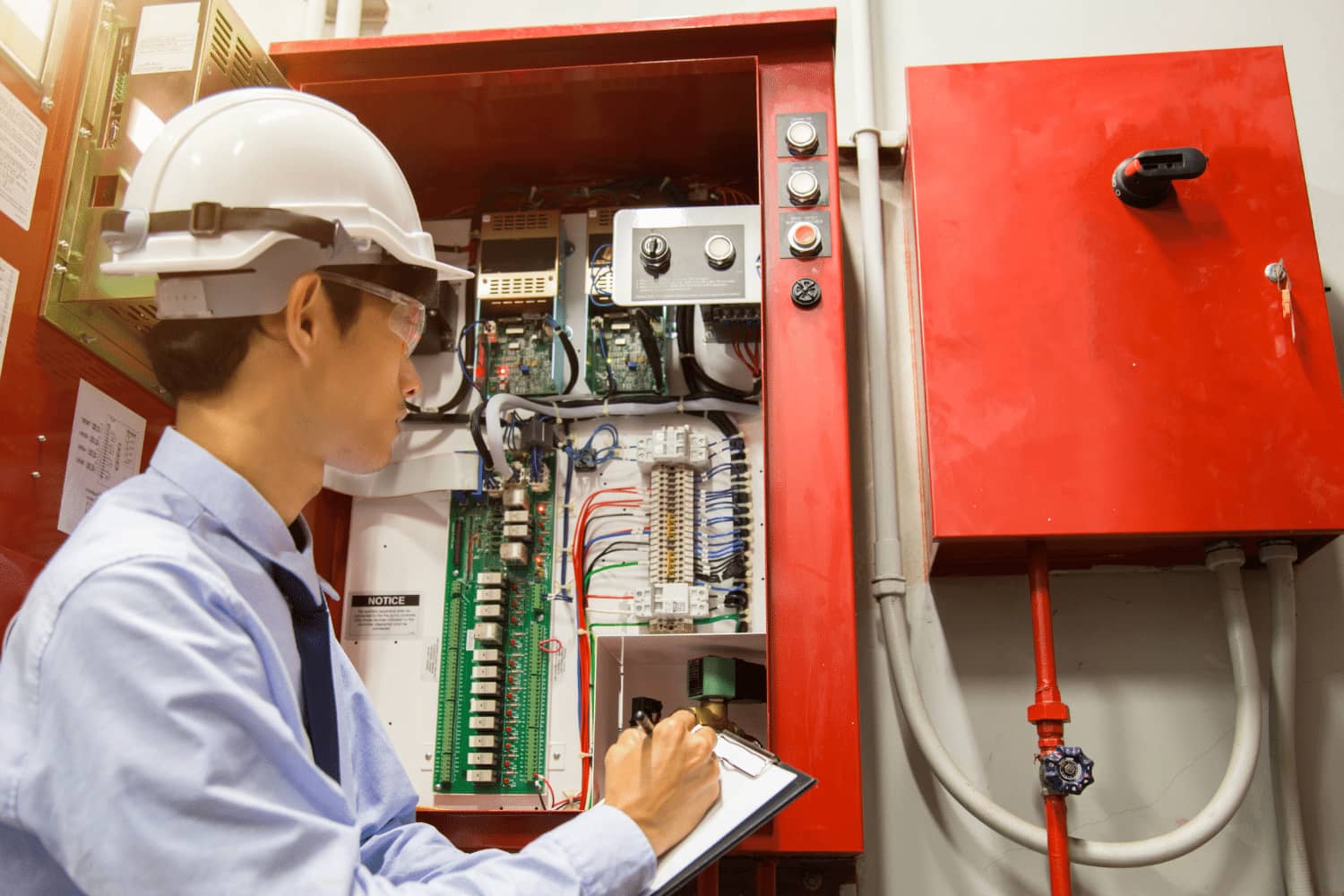 What should fire protection servicing include?
An inspection should pay special attention to the three main areas of fire alarm safety: condition, sound and connection. To check these aspects, the engineer will inspect the overall condition of the system, ensure it makes an audible sound, and inspect the link to the main control panel (and Alarm Receiving Centre if applicable).
A checklist will cover the following:
Control panels: checking to see if signals are received and the display/status LEDs are lit
Devices: sensors and detectors are free from any damage or obstruction
Call point: testing all manual call point and ensuring the alarm can be heard from every area in the building
Batteries: checking that should the main power fail, the backup batteries will power the system
Accessibility: all call point should be accessible and not behind something that may cause a delay in announcing a fire
Building works: conducting a visual inspection of any structural changes on the premises
Alarm Receiving Centre: checking the connection between the users and centre to avoid unwanted false alarms or loss of communication
Reporting: carefully documenting all tests the fire alarm service engineer has conducted to serve as evidence of legal compliance
Reporting should also include any triggers, faults found and the actions taken to rectify them and when these alterations were made. These reports should be given to both you as the one responsible for the fire safety in the premises, and by the engineer. A professional company will have a full log to draw upon should an issue arise in regards to compliance.
It's important to note that fire safety is your responsibility as the business owner, employer, landlord etc.Fire safety negligence may not only lead to legal action (you may face heavy fines and even a prison sentence) but may also cause loss of life, loss of business revenue, a fire-damaged workplace you are unable to work in, and a tarnished reputation for ignoring basic safety measures.
Fire protection servicing and the costs associated
The average maintenance visit costs around £125-£200+ dependent on your system size and complexity. However, if you have a maintenance contract this will again differ. A maintenance contract can be the ideal solution if you are looking to sit back and forget about the system, whilst still ensuring you are meeting regulations and create a safe space.
The cost for a maintenance contract can vary greatly and is typically the best option as we rarely service systems on a one-off basis. A maintenance package may include a connection to our central monitoring station and will give your prioritised access to our service engineers in the event of a malfunction. These can therefore vary between £400 and £4000 depending on the size of the system and frequency of servicing.
By servicing your system, you are also expanding the life expectancy of your alarms as you ensure these are in good working order – repairing components before the whole system needs replacing.
The conclusion
It's clear to see just how necessary and vital fire alarm servicing is, certainly it is not something to be overlooked. Not only is it the law, but it is a warning and defence against preventable damage to both lives and premises. A fire alarm maintenance call out will focus on three factors: condition, sound and connection. Together, these ensure the overall effectiveness of the fire alarm system, allowing you to build a safe space that you can trust should a fire break out.
WLS: Our fire protection servicing
Our team of highly skilled engineers are readily available through our call out service, they'll ensure your system meets the very highest of standards and find a solution should there be a fault.
We always recommend systems be serviced at least twice a year, and our team is dedicated to providing you with a service you can feel confident in trusting. WLS also offers maintenance contracts for the majority of systems, whether or not we installed them to completely take the stress away from you. Contact our service department for more details on 0208 676 4300.
WLS, creating safe space for you.
Want to learn more? We recommend:
The WLS Guarantee – Creating Safe Spaces
* First Time Fix or Solution Provided Every Time *
We strive to be the World's Leading Security Company, with an uncompromising focus on customers and the solutions we deliver. Our WLS team knows how important it is to create safe spaces you can trust, whether for your family home or business. 
With over 30 years of experience in the industry, our expert team have closely followed the latest trends and developments in security technology. From our first installation to where we are now, our customers have always been our focus – providing an effective and high-quality result consistently. We're proud to offer our unrivalled WLS guarantee to each of our customers.